mommy talk events food
Last September 9, 2016, I got the best of both worlds having been invited as media guest and Golden Circle member to take a peek at what  SHANGRI-LA  has in store for loyal members of their Golden Circle Program.  What we witnessed was nothing short of amazing! The dining program is the latest initiative in the ongoing transformation of Golden Circle, which has rolled out industry-leading member benefits, new partnerships, exclusive offers and Golden Circle Event Planner Rewards during its nine-month Loyalty's anniversary campaign.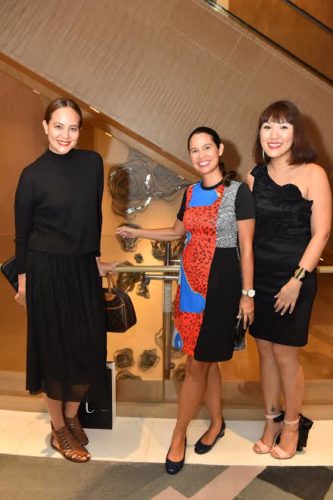 Before entering a secret door, I made sure Sara (Meir), Lesley (Tan) and I had our photos taken by my dear brother-in-love Jinggoy Buensuceso's masterpiece sculpture.  What welcomed us upon entering Act 1 was a cutting-edge, jaw hanging, Bea Valdez floral installation of mixed blooms and botanicals that hung upside down from the ceiling.
Act 1 as Hotel Jen Manila's executive chef Sonny Almandres called it was The Intimate Mood.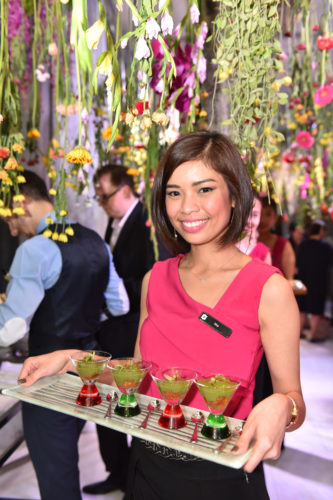 It includes a menu that allows guests to enjoy a cozy get-together and some refreshing dishes that are designed to encourage the spirit of sharing and bonding over a meal.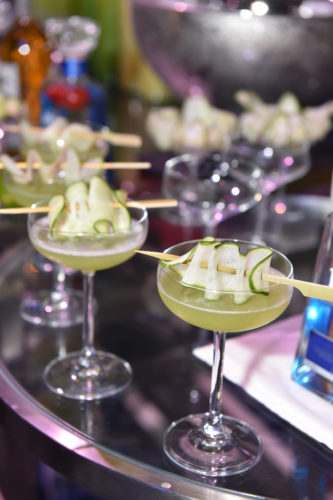 Chef Sonny further reiterates, "In this act, we offer flavourful, sensuous food in a romantic environment, perfect for date nights, a gathering of friends and memorable conversations."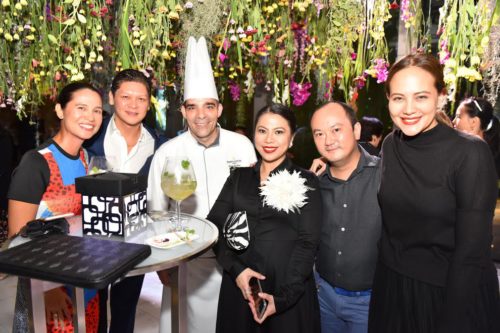 Act 2 had a dramatic reveal and silenced all of us and then kept us busy marvelling at each of the stations that include:  Foie gras and apple sliders, Hokkaido scallops with pumpkin and summer truffle;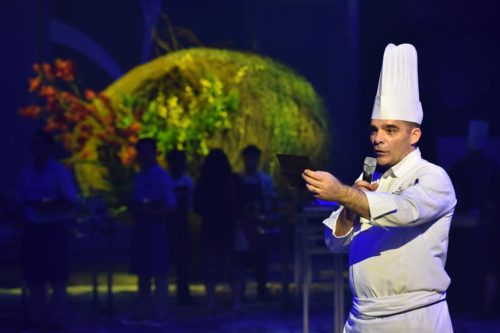 Olive soil, mushrooms, goat cheese panna cotta and baby leaves; and Bellota Iberico ham, extra virgin olive oil, farmers' baguette and tomato garlic pulpo.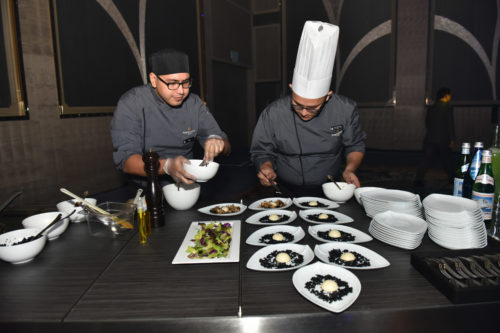 Shangri-La at the Fort's mixologists crafted signature cocktails such as the Maple & Bacon Manhattan, El Toro Loco (habanero-infused 1800 silver tequila, Cocci Americano vermouth, cucumber, agave lime), as well as Veuve Clicquot champagne and house barrel-aged Leyenda Oloroso Bodega M. Gil Luque sherry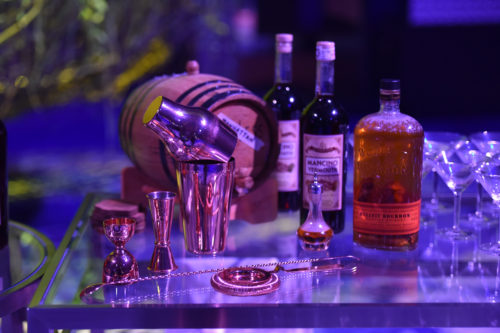 Just when we think we had had our fill, there was Act 3! This Act was as Scott Brands, Edsa Shangri-La's executive chef puts it, is The Chill mood menu. According to Chef Scott,  "it is designed to give you a dining experience that will make you feel at ease while enjoying the taste of our restaurants' best seasonal ingredients."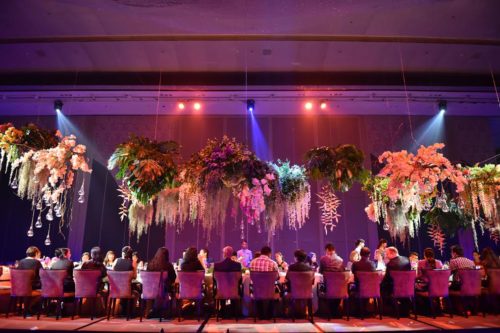 We hardly spoke to each other here as we got busy with our first sit down meal for the evening.  Everything was just worthy of being captured so we clicked our cameras away.  I was given a special vegetarian dish while the rest of the crew dove into their Mediterranean-inspired dish of Monkfish fillet in cara fatta, octopus, chorizo and saffron orzo infused with Pernod white wine sauce.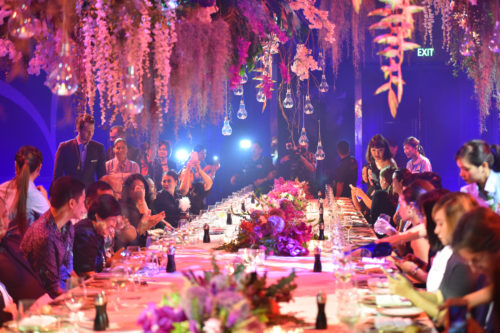 Wait, there is more! Two more acts, actually! The next act ushered us into a retro-futuristic theme inside Grand Ballroom C. There was rock music blaring from the background while special lights reflected on the mylar centerpiece  to make it look  like a colossal flame.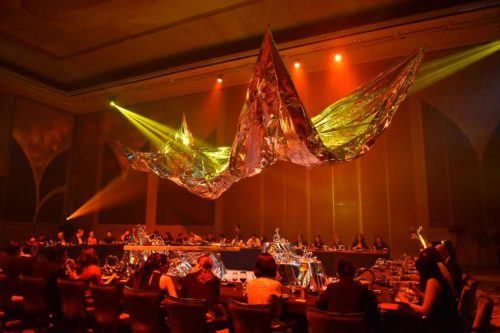 All the chefs from the Shangri-La city hotels in Manila paraded through the square-shaped banquet setup, holding a large, thick rectangular chopping block filled with meat. As one team, they went ahead full force as they carved, chopped and served the Smoked 48-hour slowcooked US beef brisket; Chapon de Bresse (goose) braised in champagne with root vegetables; Black Angus prime rib marinated in bourbon and muscovado; Iberico pork pressa in bomba rice crust, chili and herbs with Rioja sauce, as well as cast iron skillet-braised root vegetables and sauces directly to each guest.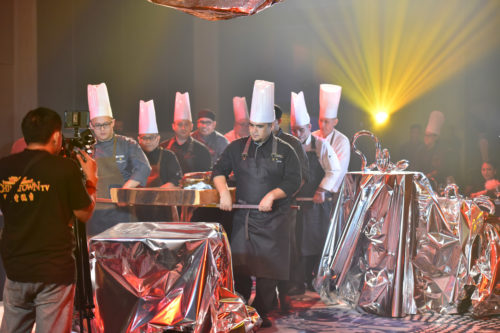 As everyone tried their best to recover from such a food fest and grandeur, The Table proceeded to end the evening with a big bang full of sweets, balloons and upbeat music which are perfect ingredients to end the evening on a high note.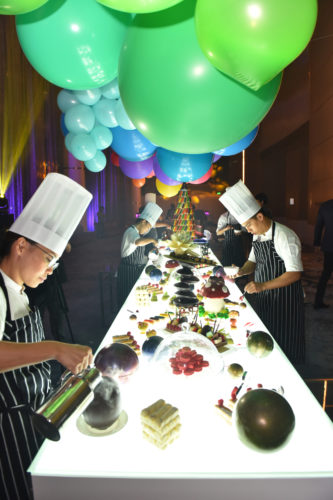 Anthony Collar, executive pastry chef of Shangri-La at the Fort, encouraged the guests to smash the chocolate balls and play with their desserts.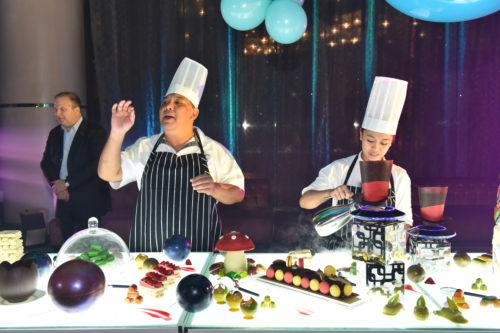 Before doing so, everyone made sure to document the well-curated desserts and then everyone had their share of sweets and a sugar rush was evident with all the giggling and happy chatter.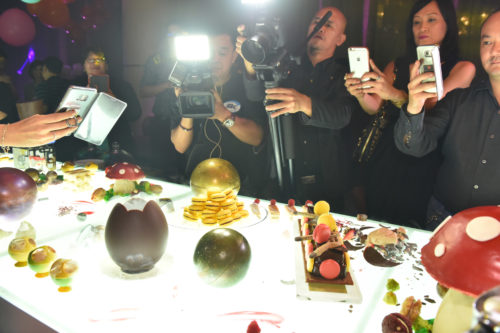 It is hard to forget an evening that was well thought out with every single detail taken in consideration.  Then again, I am not so surprised as such is just being true to the SHANGRI-LA tradition of making a stamp in each of our hearts.
For more information about The Table, visit: www.GoldenCircle.com/TheTable
Photos by: Daniel Tan
(Visited 153 times, 1 visits today)
September 16, 2016 by Mommy Maricel