mommy talk travel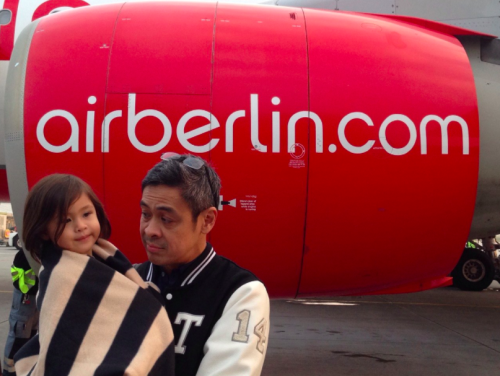 Ich bin ein Berliner! These were the words uttered by President John F. Kennedy that endeared him to the people of Berlin. These are the same words that crossed my mind as I traversed through the whole marathon route of the Berlin Marathon. I realized that it has become the best marathon experience of my life!
What a great way to celebrate conquering the world with our children. This time we have had the chance to be with our eldest daughter,Ella and the youngest member of our team, Solana.
We (Team Pangilinan) find it a huge privilege to be able to go far and beyond as we engage in our multisport activities. We thank our Timex Family for allowing us to secure slots to 3 out of 6 world marathon majors namely: New York (twice for Anthony), London and now Berlin.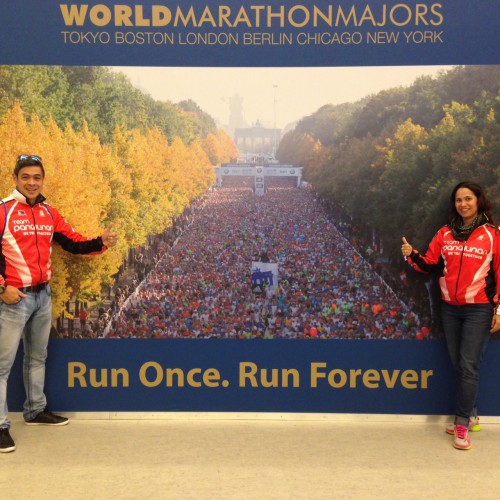 We are deeply grateful for the support of Sunlife Philippines for partnering with us to make the Berlin Marathon a reality for us as we both share the passion for value of health and living life to the fullest.  It was lovely running alongside Sunlife Philippines' President & CEO, Riza Mantaring who is truly an inspiration having gotten into running at 50 and has a mean sub 5 marathon finish!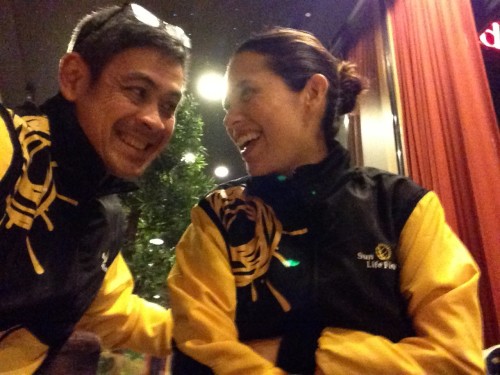 Through the years, our longtime partners have been with us from the very beginning like Timex and have continued to journey with us like Zoot, Rudy Project, Gatorade, Squadra, TSA Inc,/Havaianas and this year we welcome Quaker Oats Philippines as part of our team that helped complete our Berlin Marathon experience!  Thank you so much, dear partners!
Race day was an amazingly beautiful sunny morning that had the perfect temperature.  We felt like we were running in an air-conditioned fabulous outdoor route.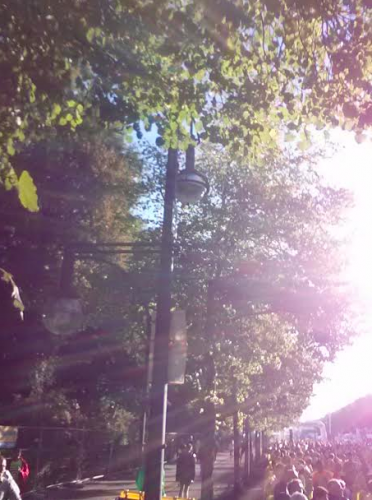 The cool weather was a perfect excuse to cuddle up and be cozy before heading for our own finishes.  This is the first time Anthony and I were together for the start of any marathon because there were only 3 waves and we happened to be in the same one so I took advantage of every opportunity to have him close to me before he speeds off to the finish line having his own PR (personal record) in mind.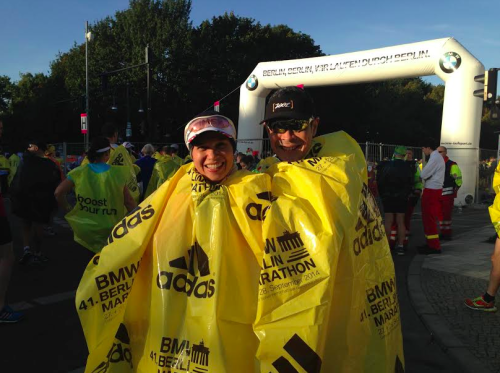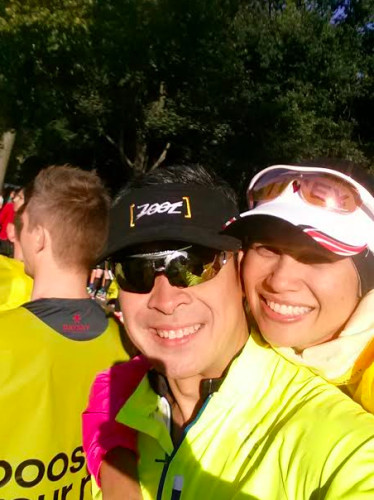 There were only good vibes that surrounded the starting line.  Everyone was looking forward to a great marathon experience as Berlin is known for giving people their best marathon finishes with it's relatively flat course.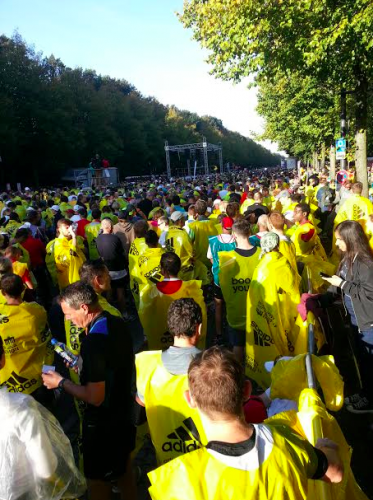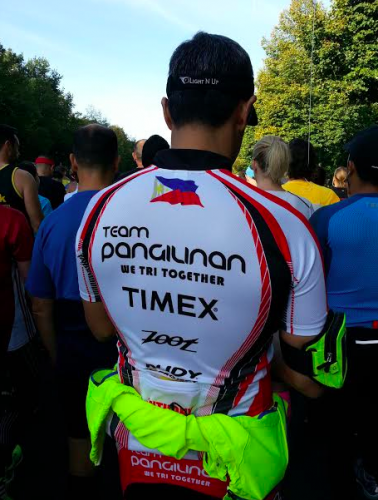 Belin did not disappoint!  It was indeed relatively flat with beautiful edifices and clean surroundings.  There were no fusses and everything that we read in the marathon guide including what to expect at which kilometer and where to find hydration and other foods were exactly where there were.  Simple and succinct -and that's German precision at its finest!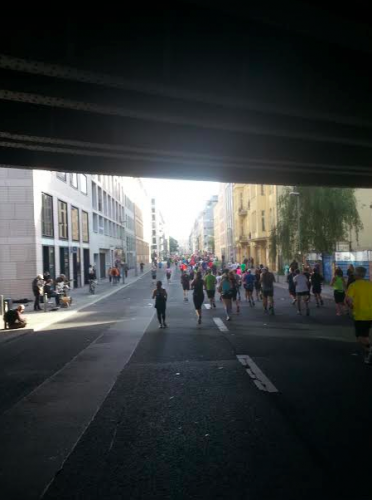 Even that short reminder about not having to need any personal music to entertain you from your Ipod was exactly correct!  Why, there was enough music provided throughout the race course and I had tons of chances to dance to the different genres of music that carried us through the 42 kilometer route!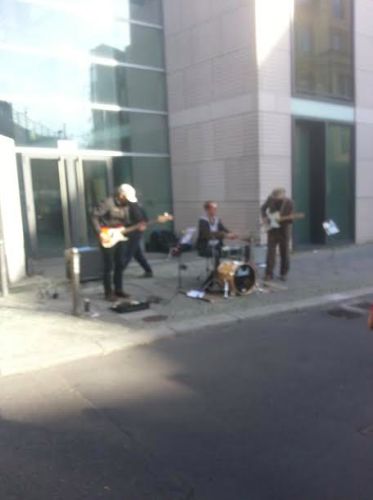 Like I mentioned in my initial posts, yes – I did a personal record and loved every minute of the route, the people , the music the preciseness of everything and the structures that transported me to historical past of Berlin and I love everything that the city represents: life , hope , progress and moving forward and upward..
It was indeed a sweet finish!
And much sweeter to find my Honey, waiting for me so we could celebrate together!  There is nothing sweeter that finding a loved one share this crazy marathon passion with you, haha!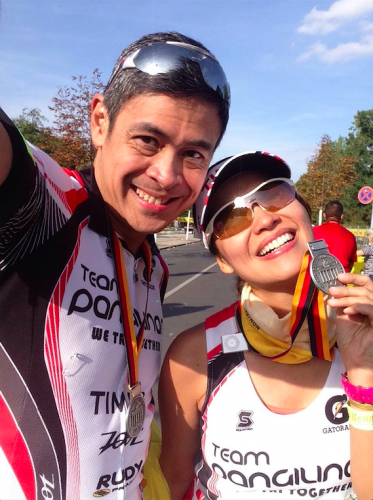 Indeed, it was an awesome day to be amongst the world's greatest and we are so honored to be in the same race that broke the world record!  Truly an unforgettable experience!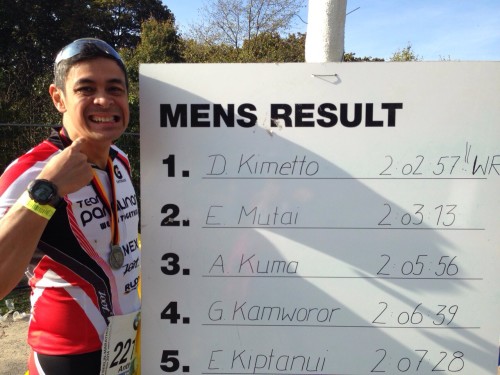 (Visited 107 times, 1 visits today)
October 12, 2014 by Mommy Maricel