my work
I have shared with you some of the familiar places I have revisited in the past months that has something to do with my media involvements.  While I may not have totally retired from showbiz, I have not pursued it as a full-time career to give way to my growing family.  I have grown so much as a total person having had the chance to discover new endeavors as a result of having focused on my family.  I believe there are seasons to a person's life and with each season comes new surprises.
This season of my life has brought me back to media in a unique and new way via teleradyo.  It is a pleasure to be asked by the Abs-Cbn Foundation to be their anchor for their newest project on air- Kapamilya Konek.  Thru the show, we aim to connect families and help their with their concerns, questions and dreams.  It is the very first time I will venture in radio.  I am happy to be able to carry out our marriage and parenting advocacies via teleradyo and to establish an exchange with the listeners and viewers about what matters most in their hearts. Am so thrilled by the support and warm welcome of my new DZMM family.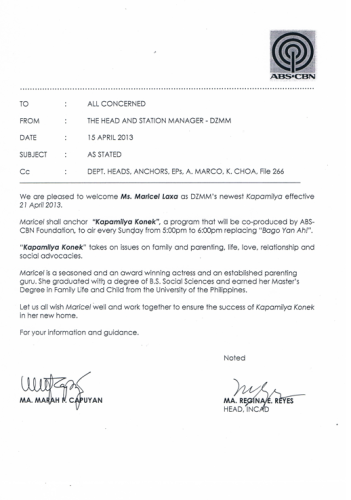 I will be joined by experts in the field of parenting to help address the questions of parents. We also have on board a very dear friend, Teacher Tina Zamora who was my classmate in my Masters course in Family Life and Child Development at UP Diliman.  She and I have gone a long way in terms of professionalizing our roles as mothers, educators and more recently, as triathletes.
With this new exciting journey, I hope to have you all join us!  Kapamilya Konek-Konek ka dyan! Premiers April 21, 2013 5-6pm DZMM 630.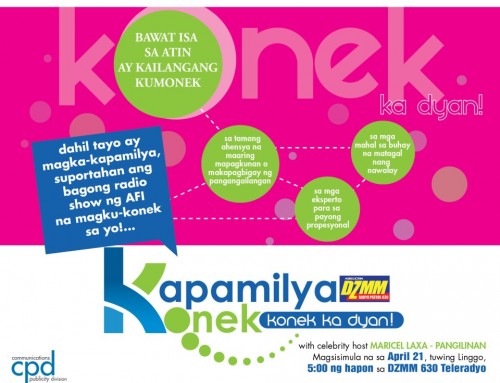 Cheers!
<iframe width="420″ height="315″ src="http://www.youtube.com/embed/ktfrkv-B-Xg" frameborder="0″ allowfullscreen></iframe>
(Visited 155 times, 1 visits today)
April 20, 2013 by Mommy Maricel