mommy talk my passions fitness
Since it first entered the Philippine soil, I have only been absent from racing the 70.3 Ironman twice: when I gave birth to my baby Solana and this year when I was asked by my doc to take a rest from extreme sports to allow my iron supplies to improve.  You can just imagine how the whole festivities that surround this yearly huge event affects a die hard fan like me–torture, haha!
This is the view from our Moevenpick room-so serene and so nice..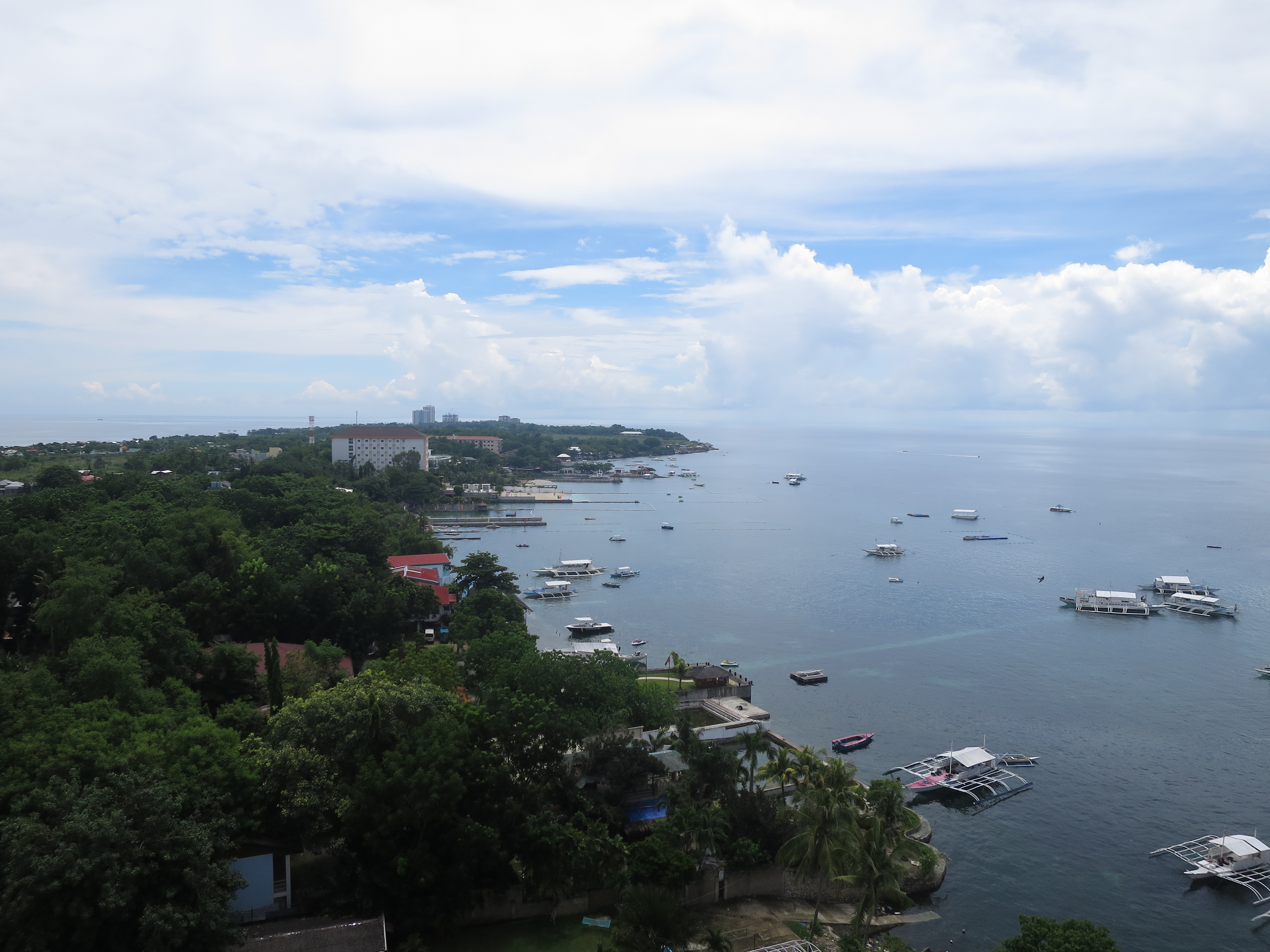 Our lone Team Pangilinan athlete for this year is my husband, Anthony so we were all gung-ho for him.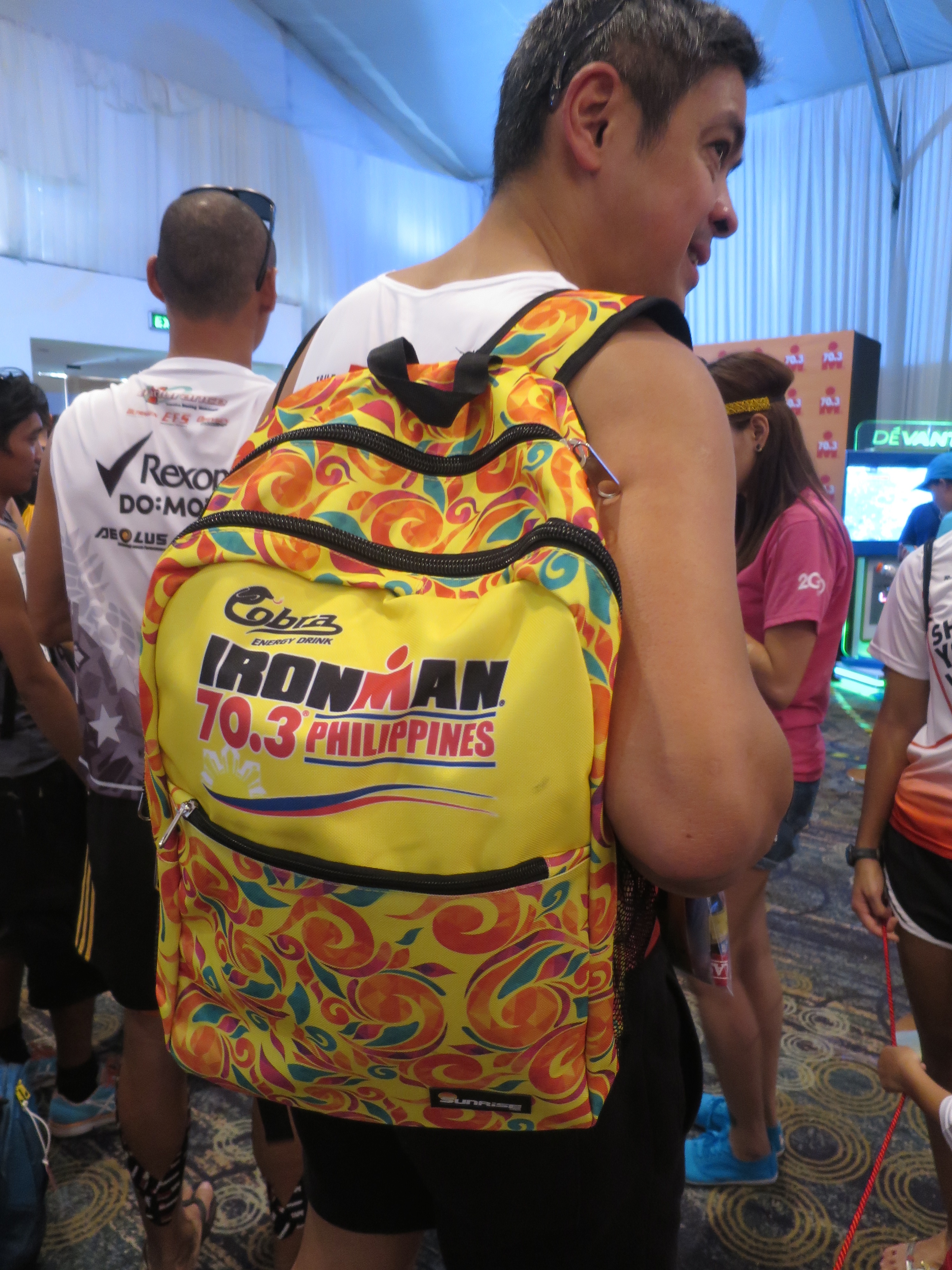 It's always a joy to be in the midst of our TRI family and we are ever so thankful to Fred (Uytengsu) and his entire Sunrise events team for sticking it out to give us the very best events we can possible experience as individuals and teams through the years.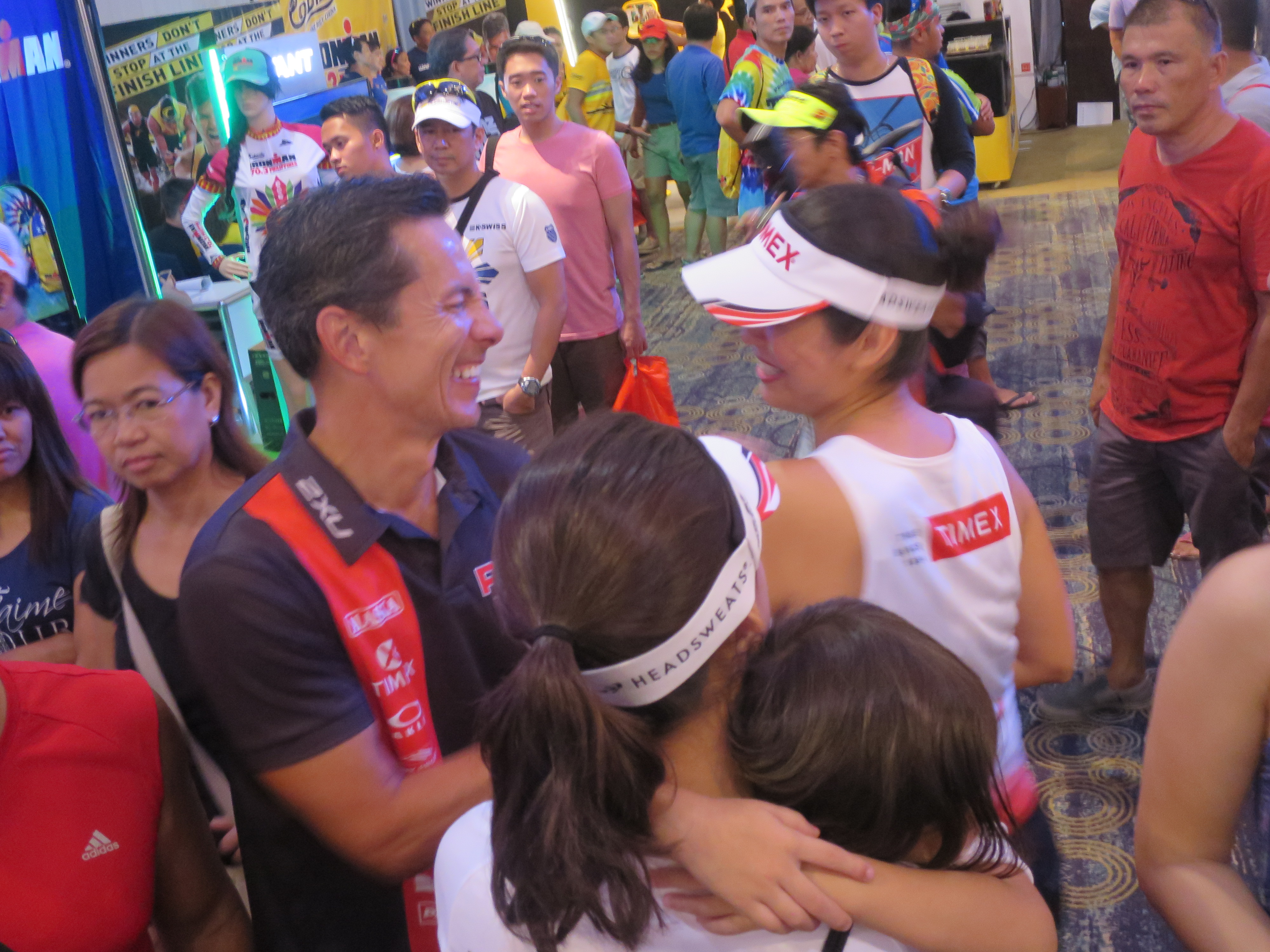 I just love the treats that are given to the participants and this year's souvenir cupcake was made by Leona Cakes owned by the family of my baby Solana's Ninang Jane Jane Ong.  Yes, she and her team baked 2,600 of these!!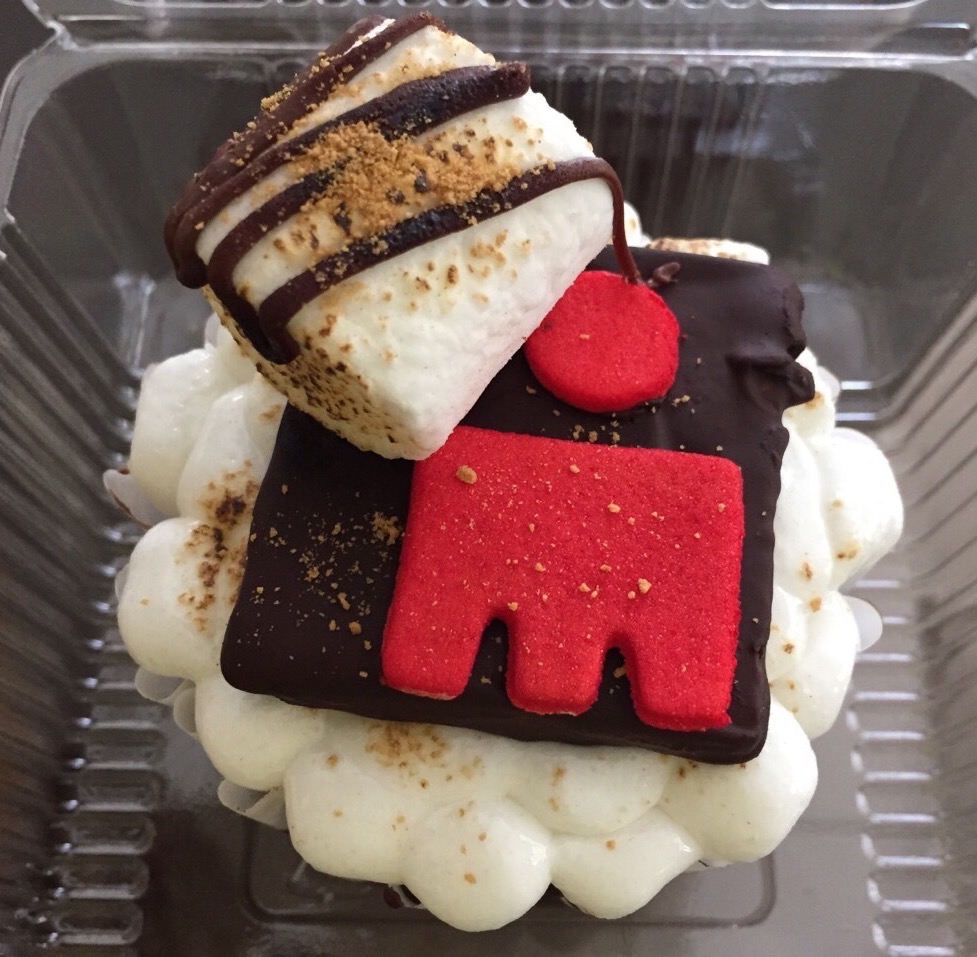 Jane Jane never fails to make our trip worthwhile and pampers us with amazing concoctions every race season.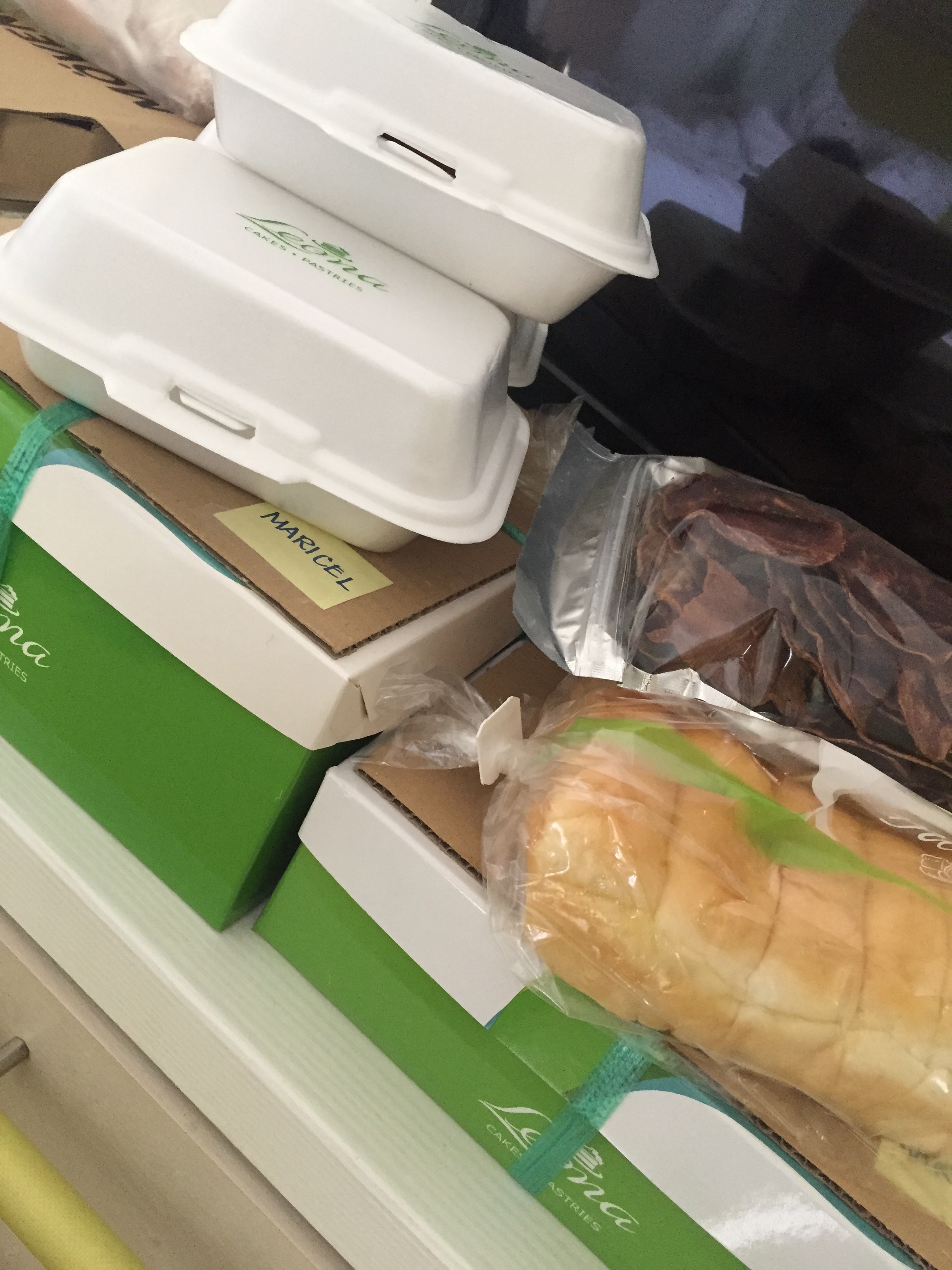 This year was quite memorable for us when JaneJane and Solana had time to really get to know each other in a very special way.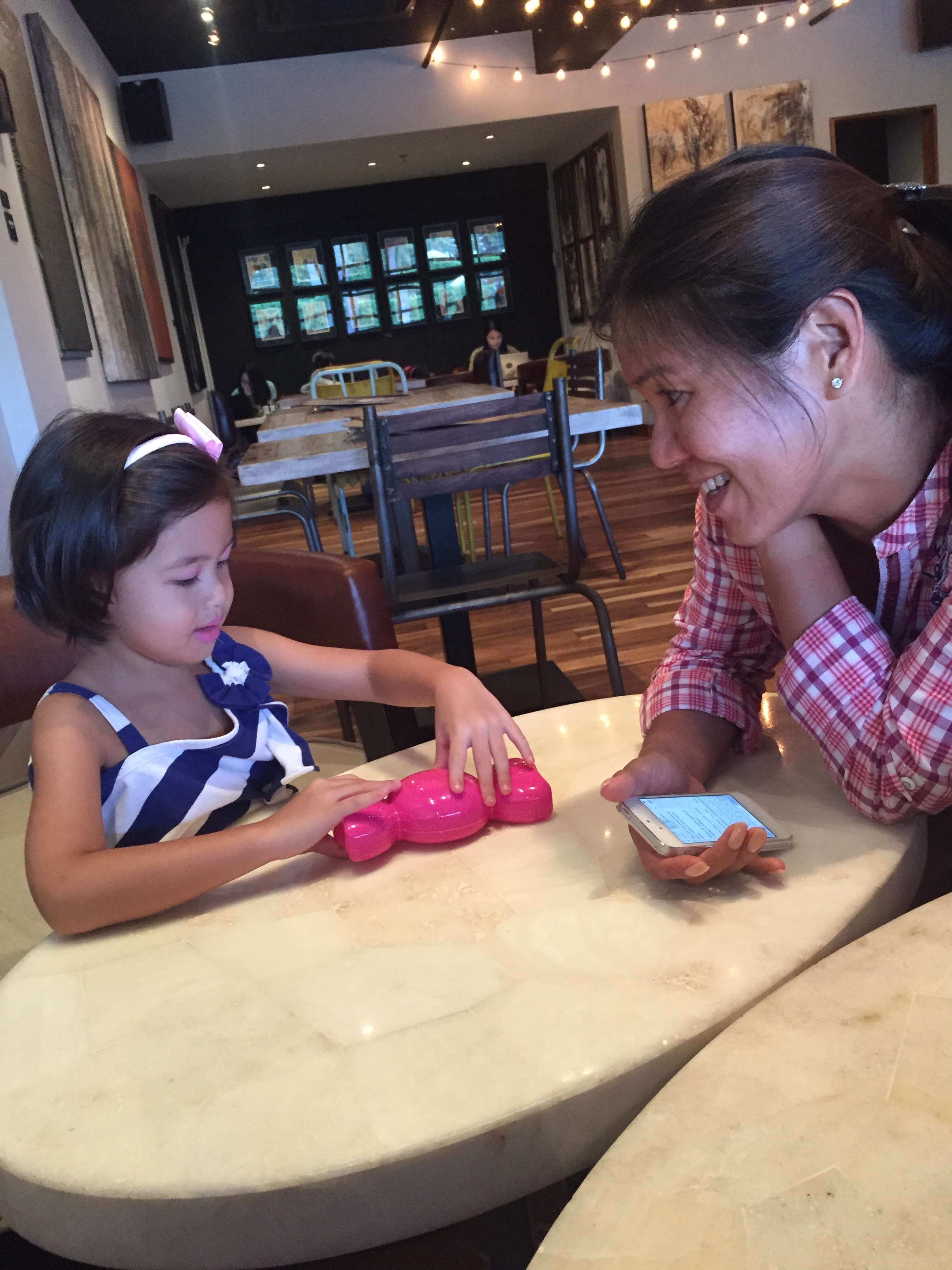 Only Hannah and Solana were able to tag along as we have been travelling with the kids being on different shifts and Hannah shared that she felt quite incomplete..Thank God for our partners like Timex and Rudy Project who have stood with us throughout the many years of TRI-ing which makes our family larger and happier.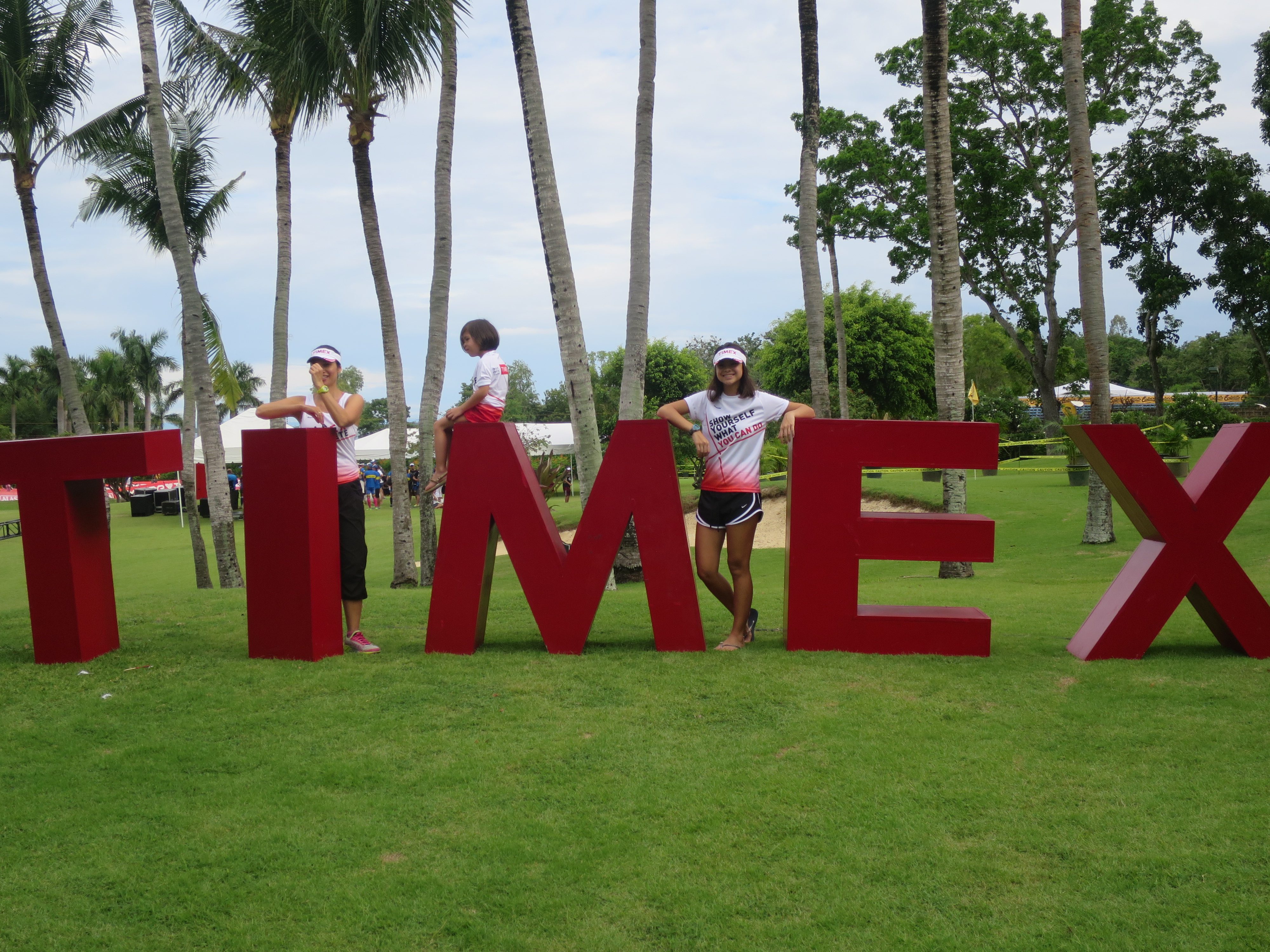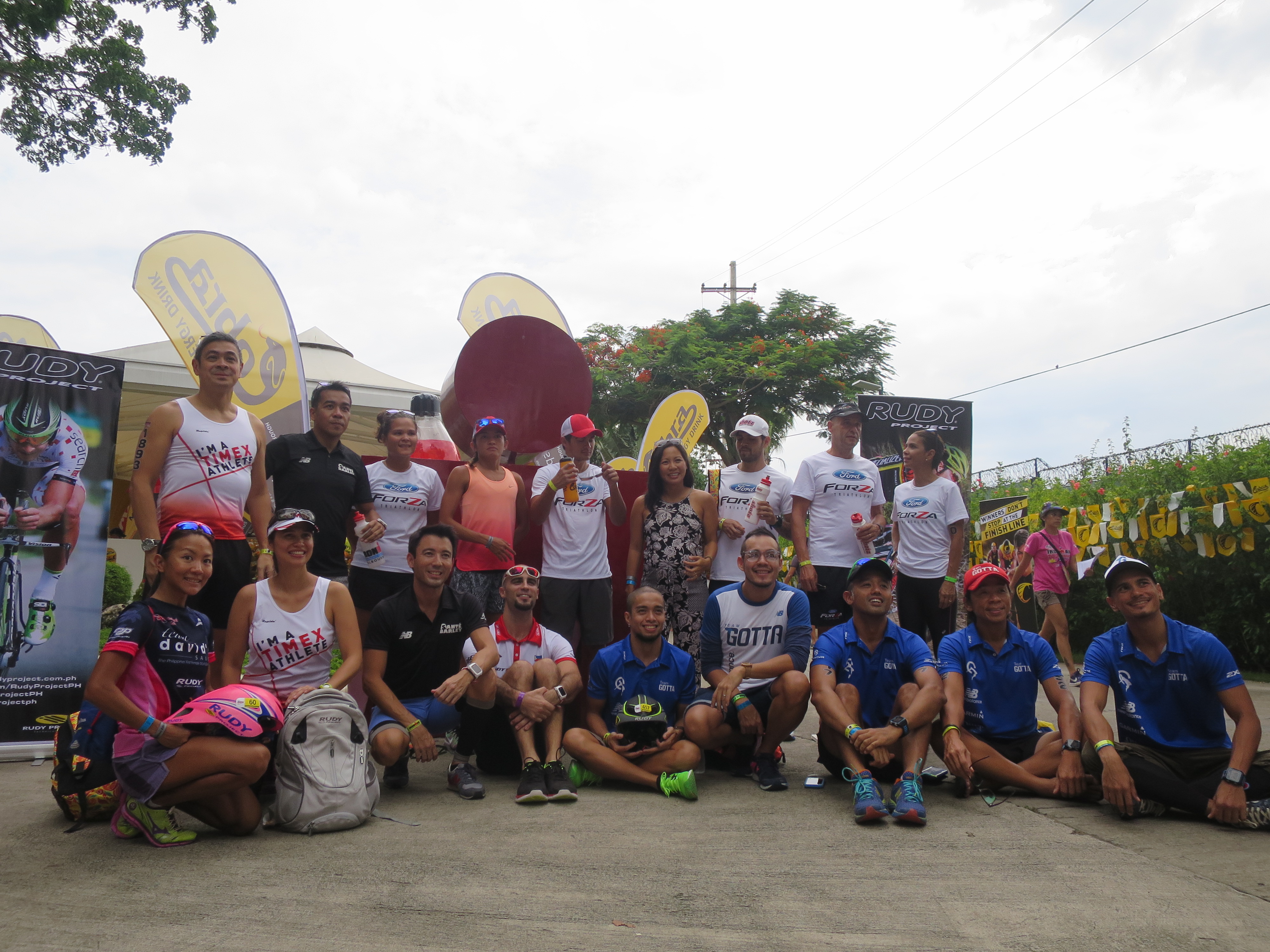 Race day was a blast-literally!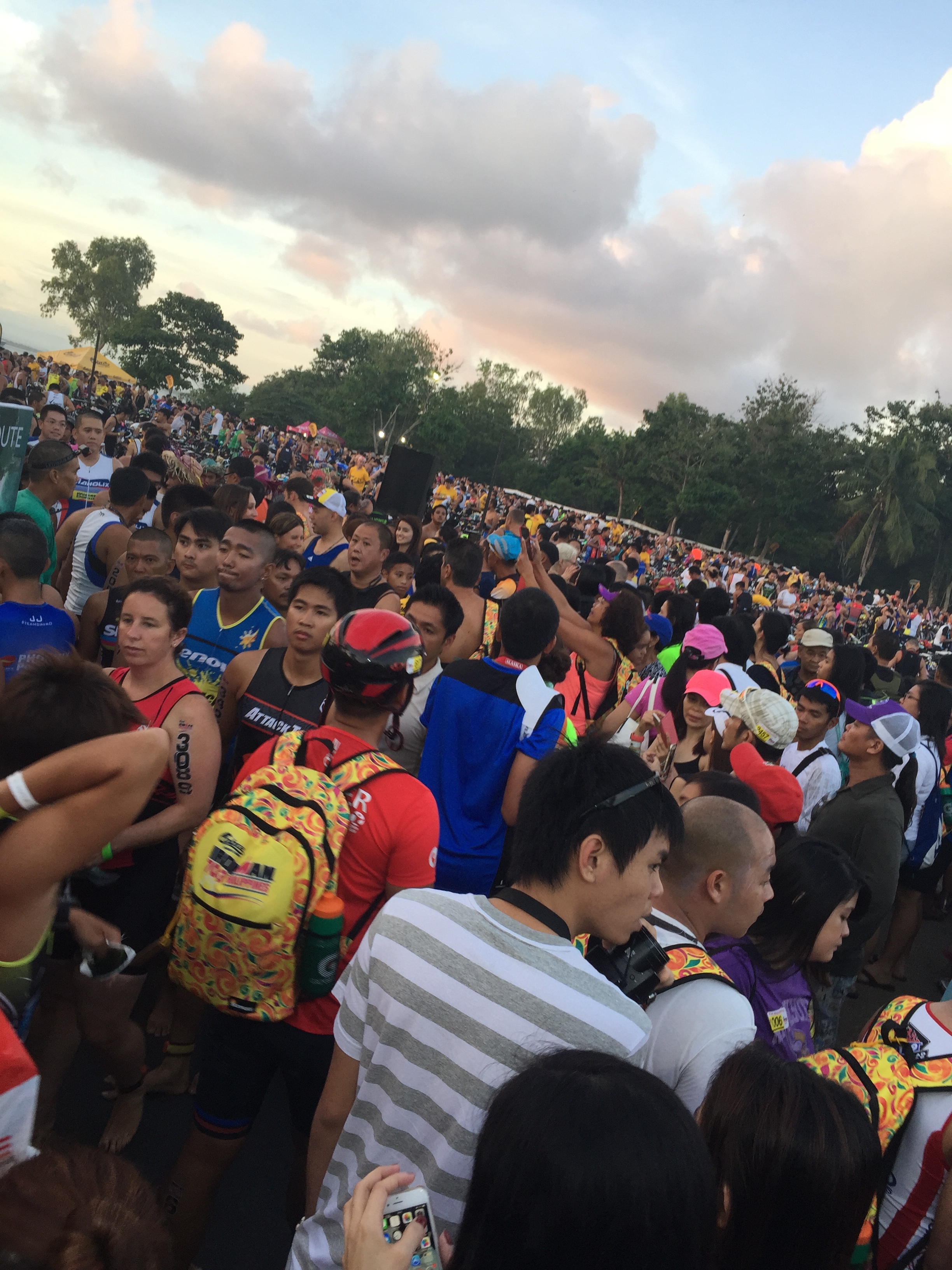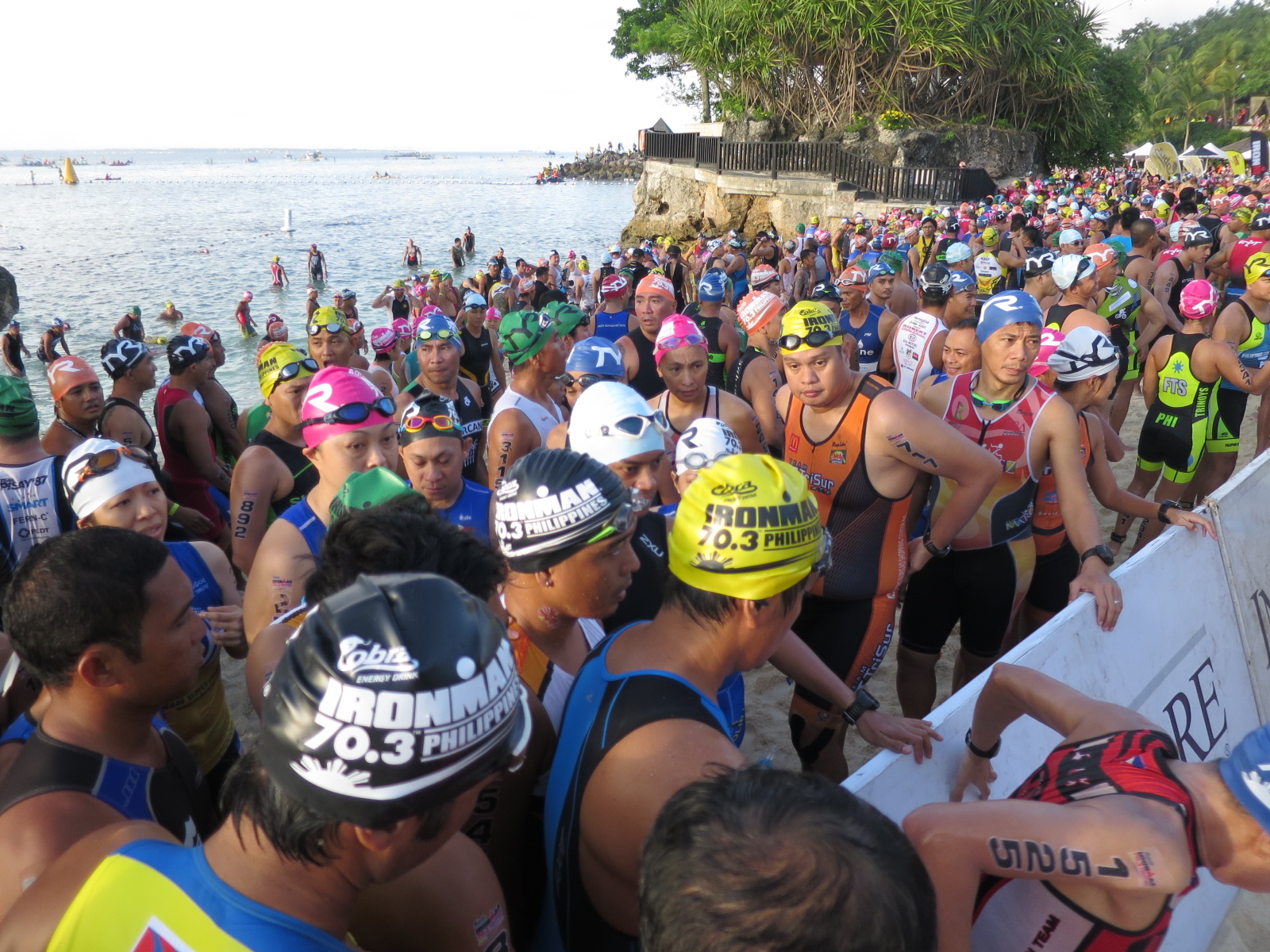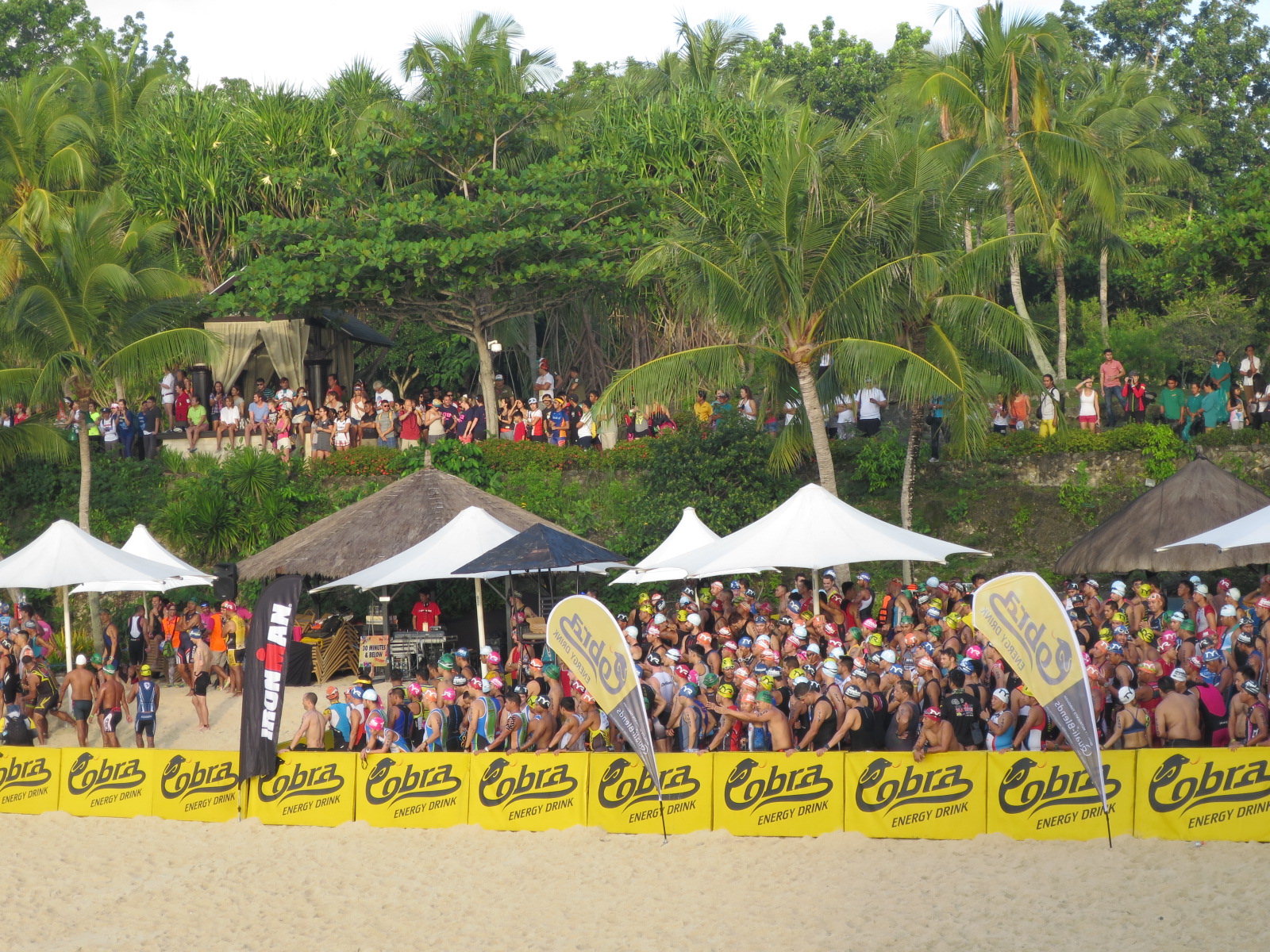 But I made sure I had time to loosen up and take selfies with interesting folks like Sarah G and Matteo G!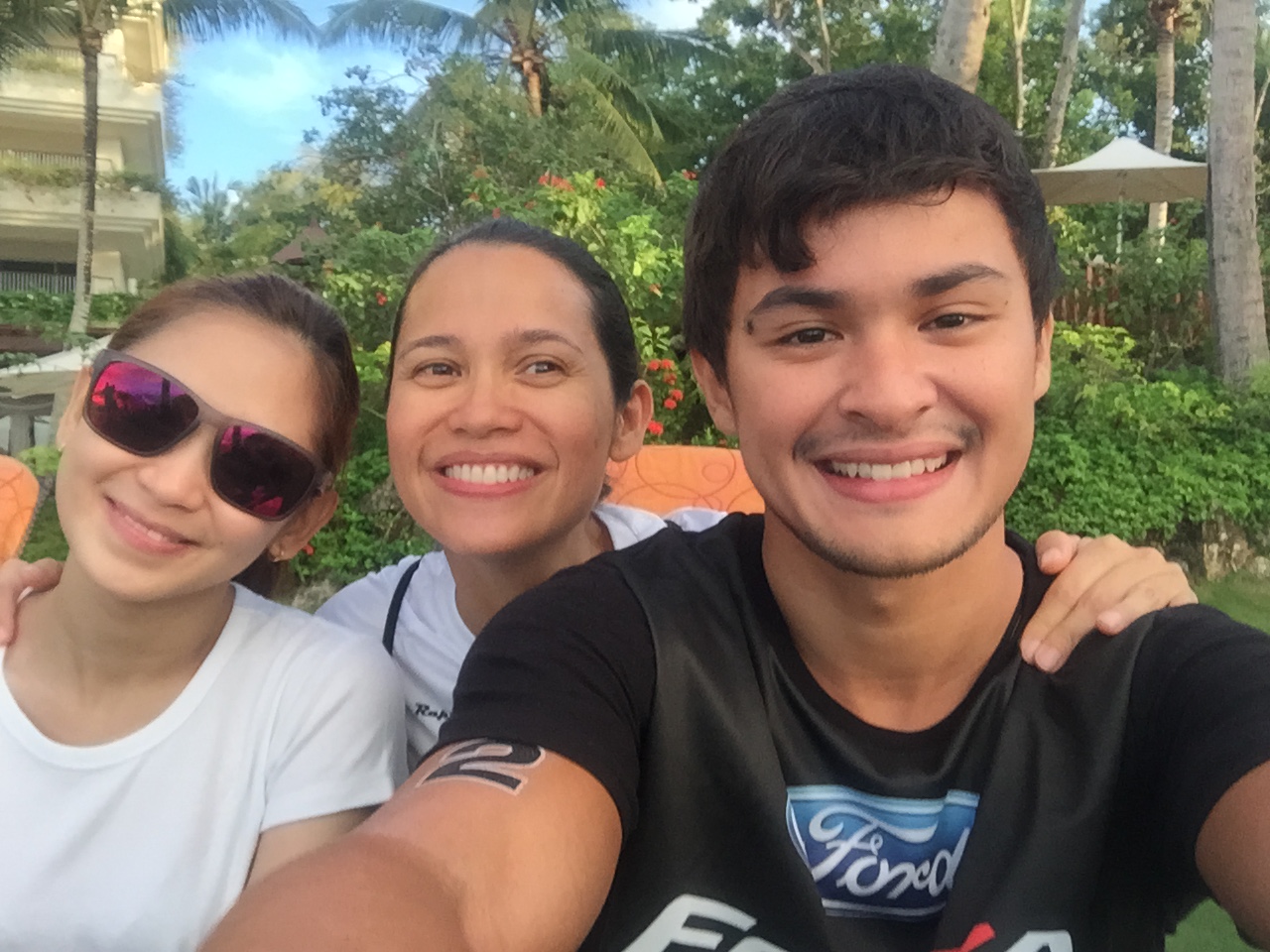 I got to see things up close and felt really privileged to be where the action is.  This year, the swim was done thru a rolling start rather than what we have been used to in the past-a mass start where everyone starts all at the same time.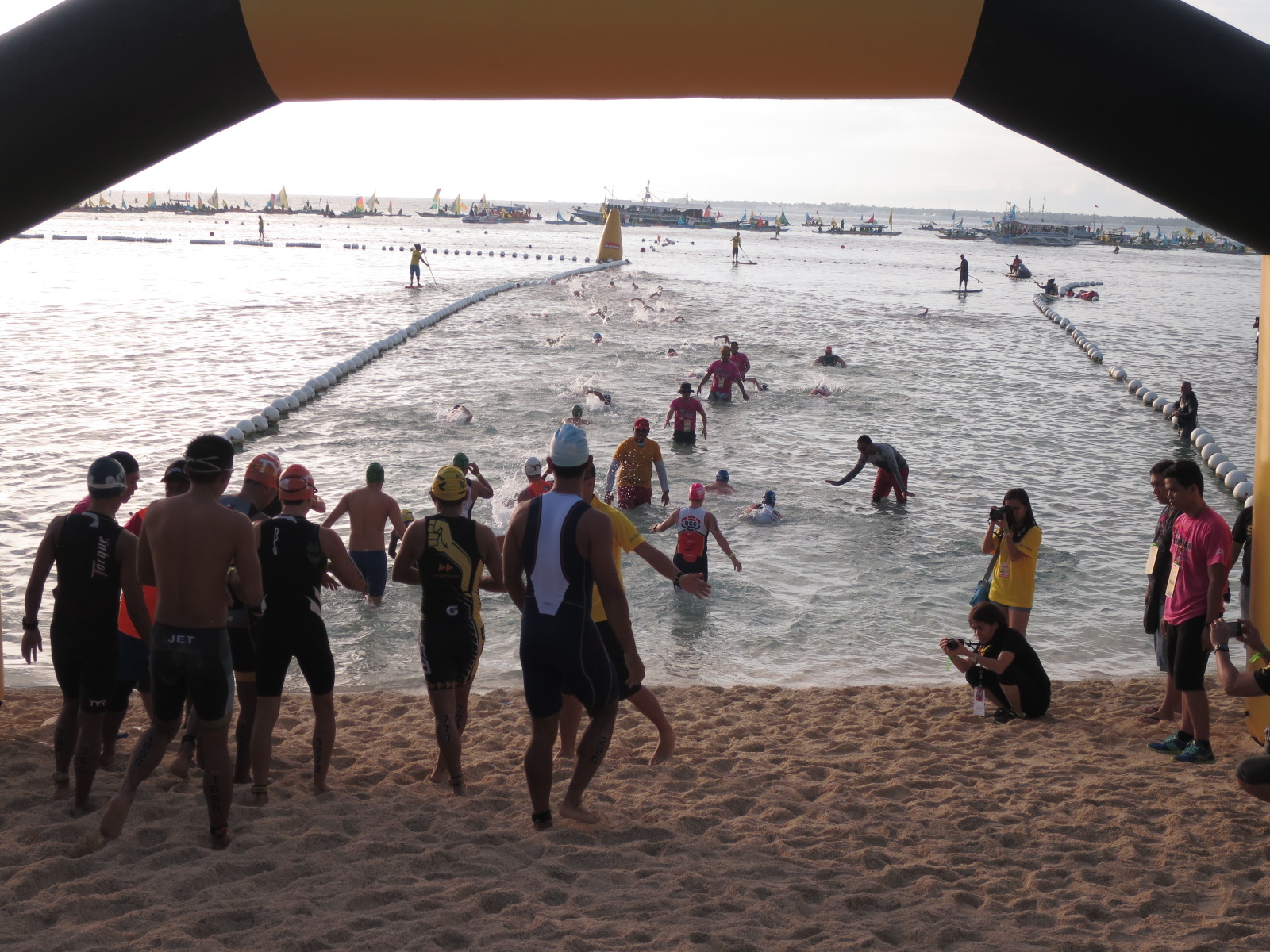 Honestly, I found this a wonderful alternative to the mass start but I may have spoken to soon for it as Anthony found himself stuck in a feisty current which later created a bottleneck and kept hundreds of athletes from moving forward toward the shore.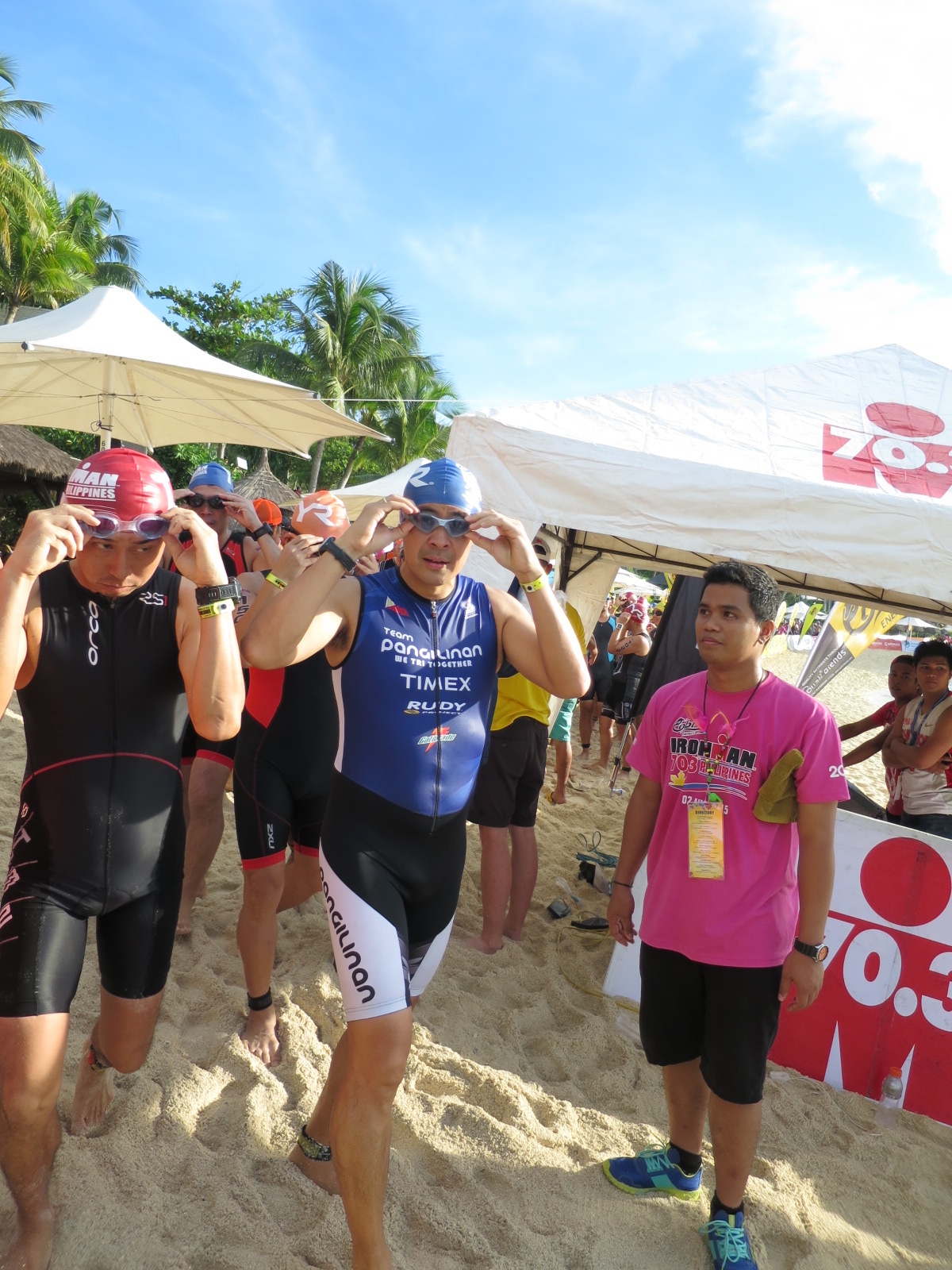 From a bird's eye view, everything looked spectacular and perfect …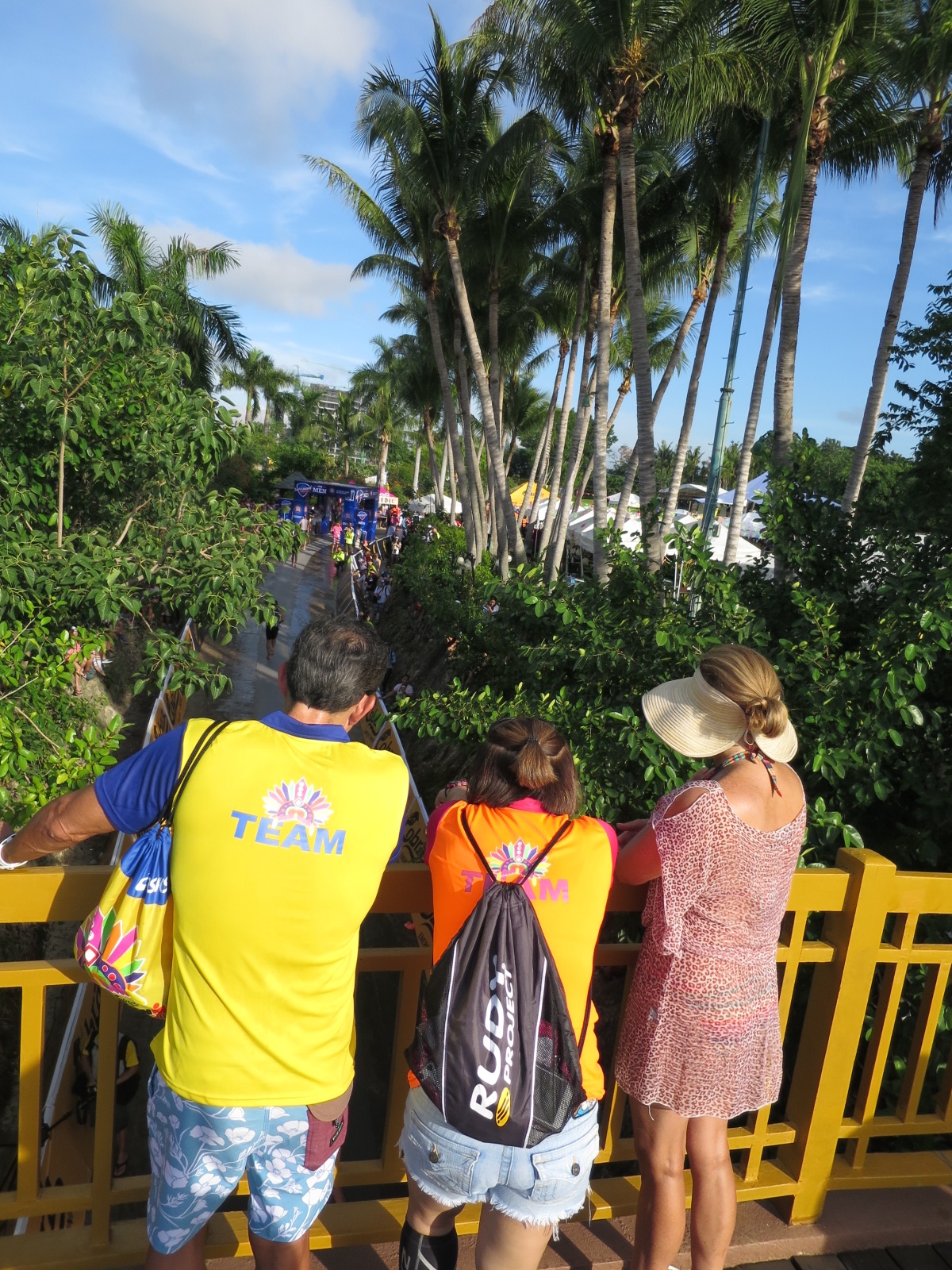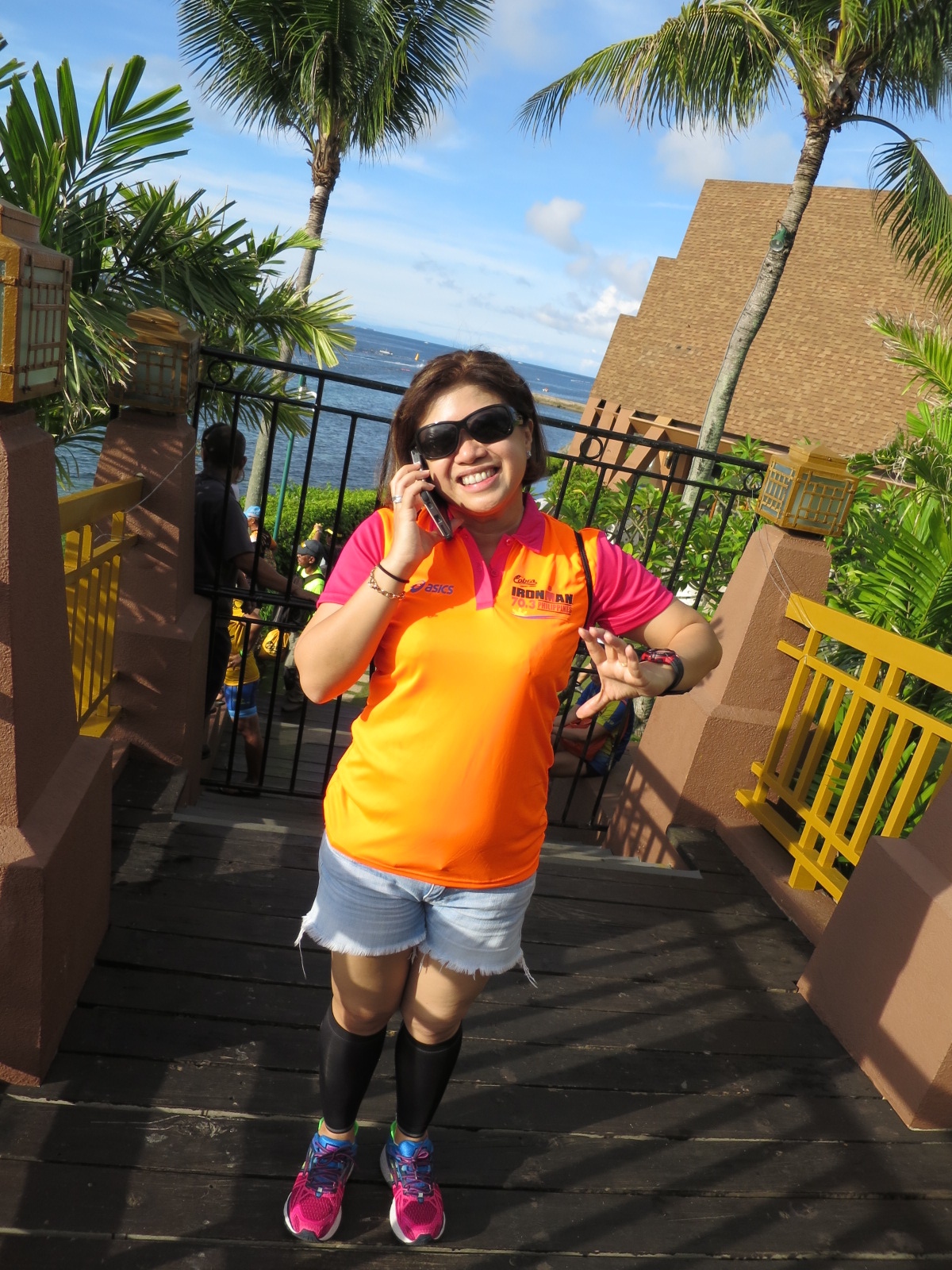 In photo: Event organiser par excellence-Princess Galura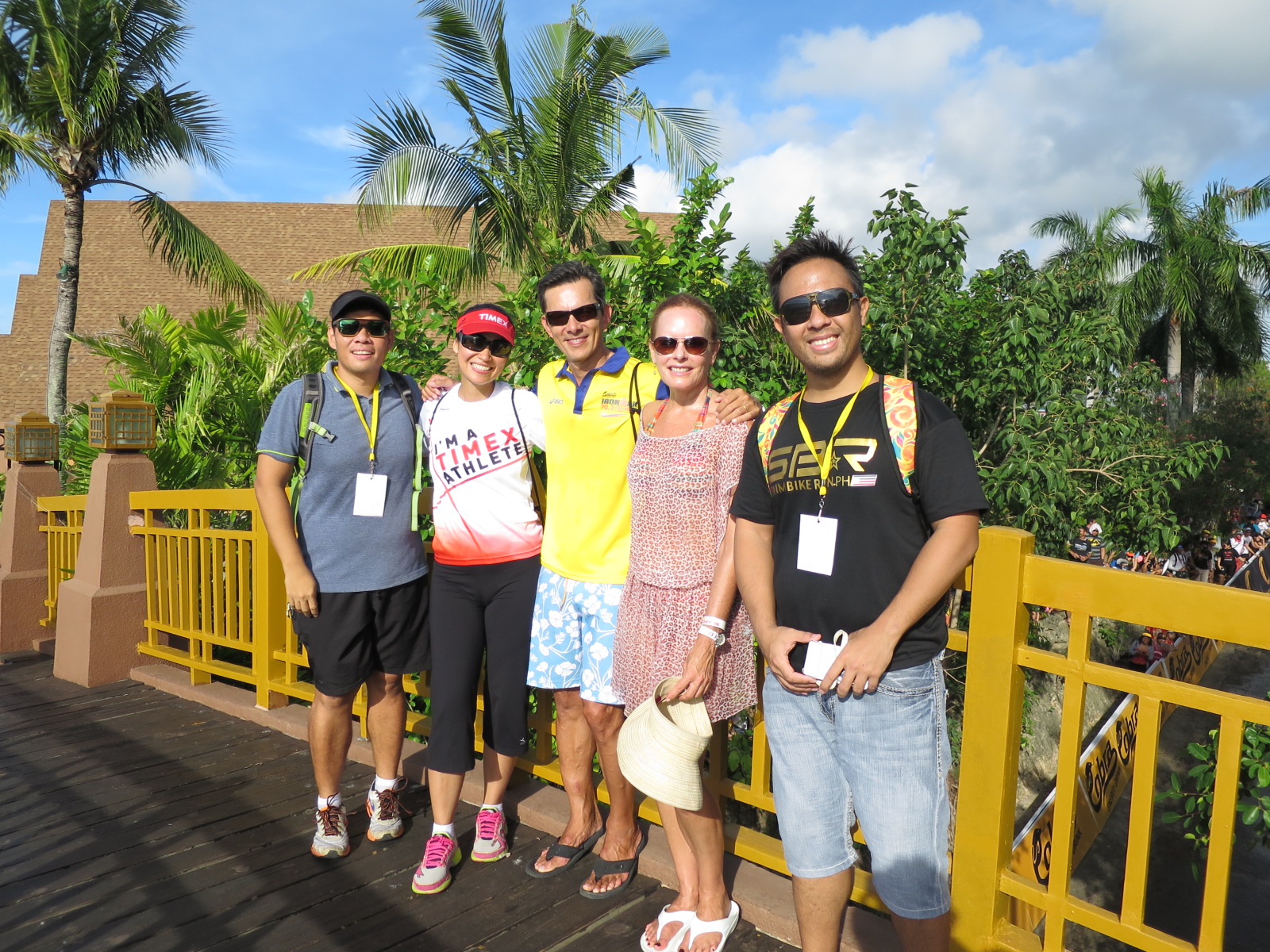 In photo: Coach Patrick Joson, Fred & Kerri Uytengsu and Carlos de Guzman.
Little did we know that the swim finish line remained elusive to hundreds of athletes who tried their very best to reach their goals.  I am comforted by this very thorough explanation from Betsy Medalla's post about what transpired in the ocean as we waited and waited for the rest of the athletes to get to T1 (transition 1)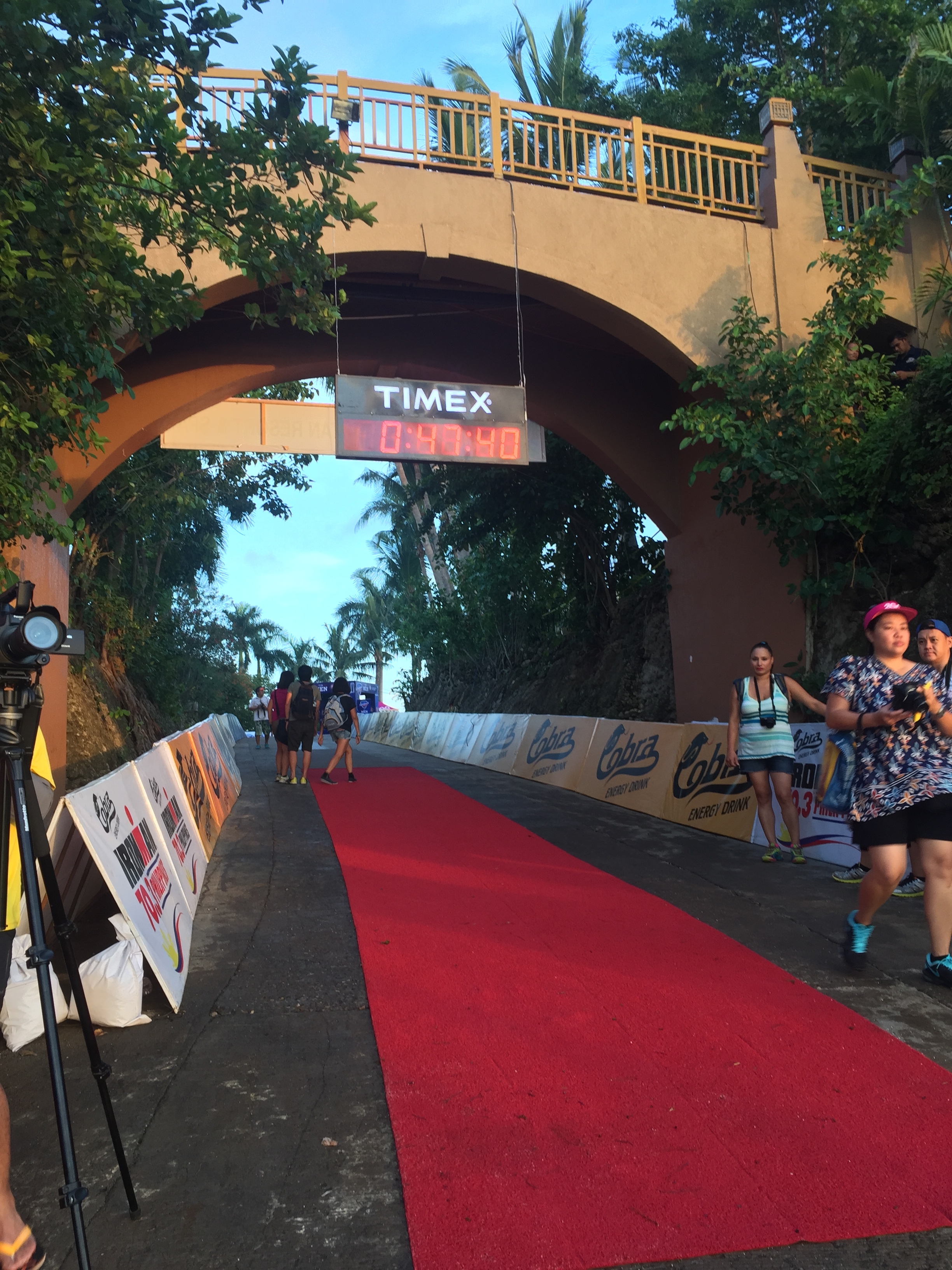 And then there were those stellar and miraculous ascends that truly inspire…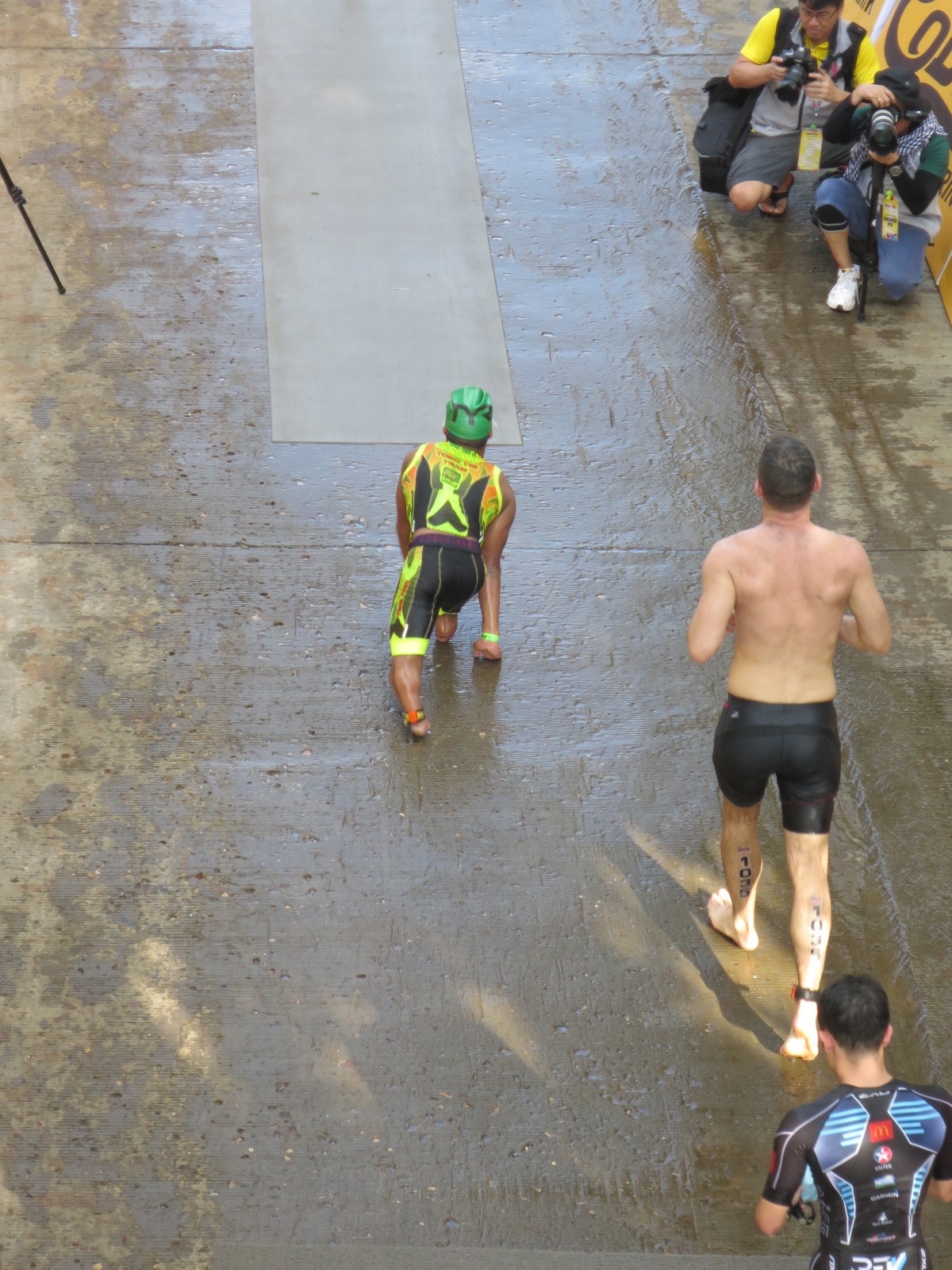 But sadly there were those harsh realities one cannot avoid in such gruelling races when others were prevented from moving forward because the cut off was not met for some reason or another and primarily because the middle pack of the heat was hit by a the spring tide.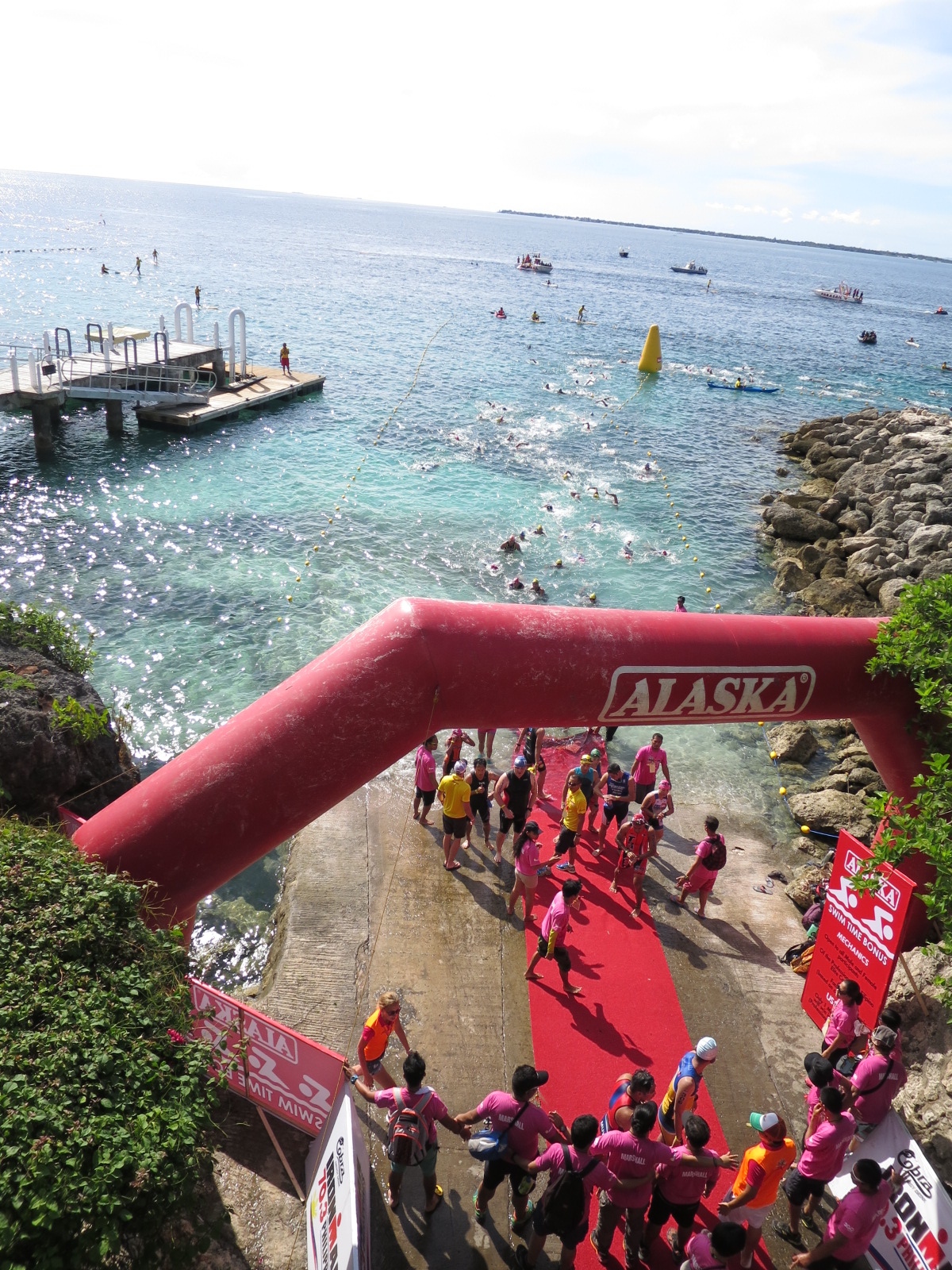 It was quite nerve wracking to wait for Anthony longer than expected but was happy to send him off and be assured that he was still solid even though he was disoriented and exhausted in the swim.
He had a long way to go but thank God for Anthony's super hi-tech Felt bike that carried him through the gruelling 90km stretch of the bike course.  This was a lot of kilometers to cover until T2 (transition 2) so we busied ourselves with TRI family concerns such as taking part in the Gatorade ice bucket blowout to refresh tired runners.  Thank you, Ton Gatmaitan of Gatorade for this photo and allowing Hannah to join you in your hydration tent, she had a major high out of this!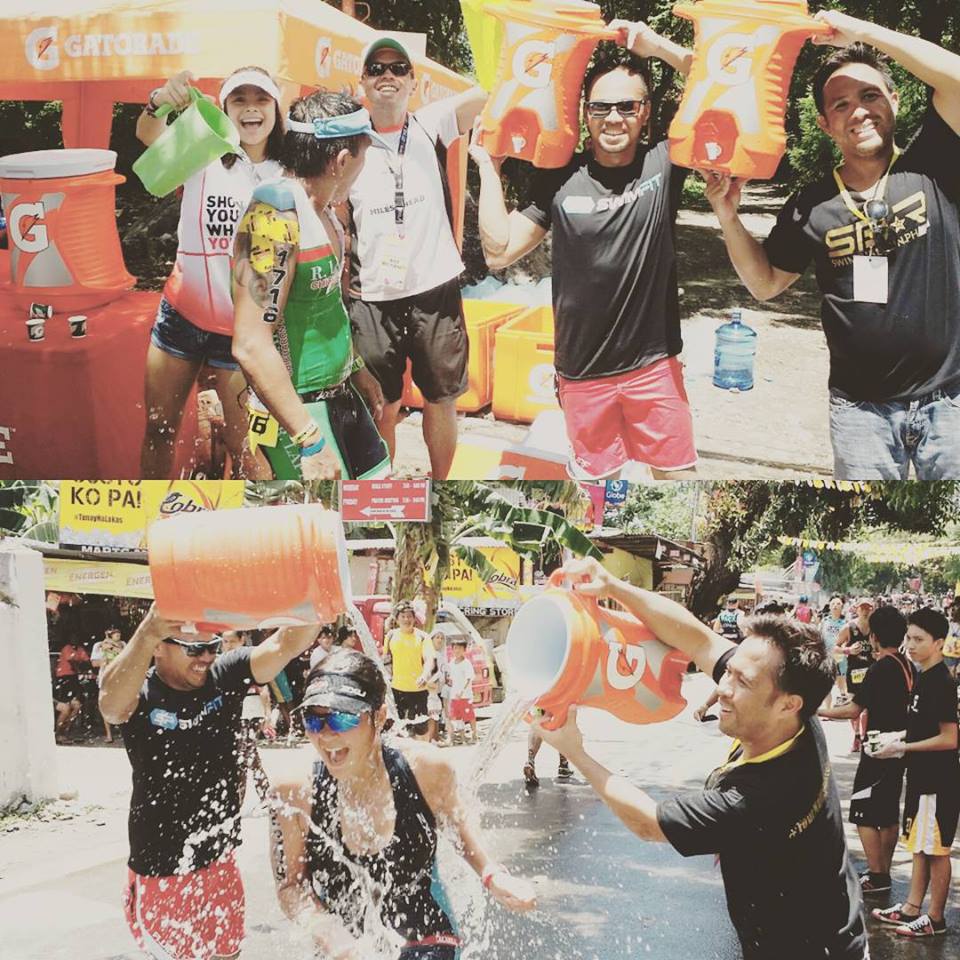 You can't get more personal than David's Salon CEO, David Charlton who is consistently ever present in all the tri/ironman races. This year, he dedicated his whole time welcoming and hydrating runners thru the David's Salon water station. He made sure the finishers were welcomed with a relaxing massage too!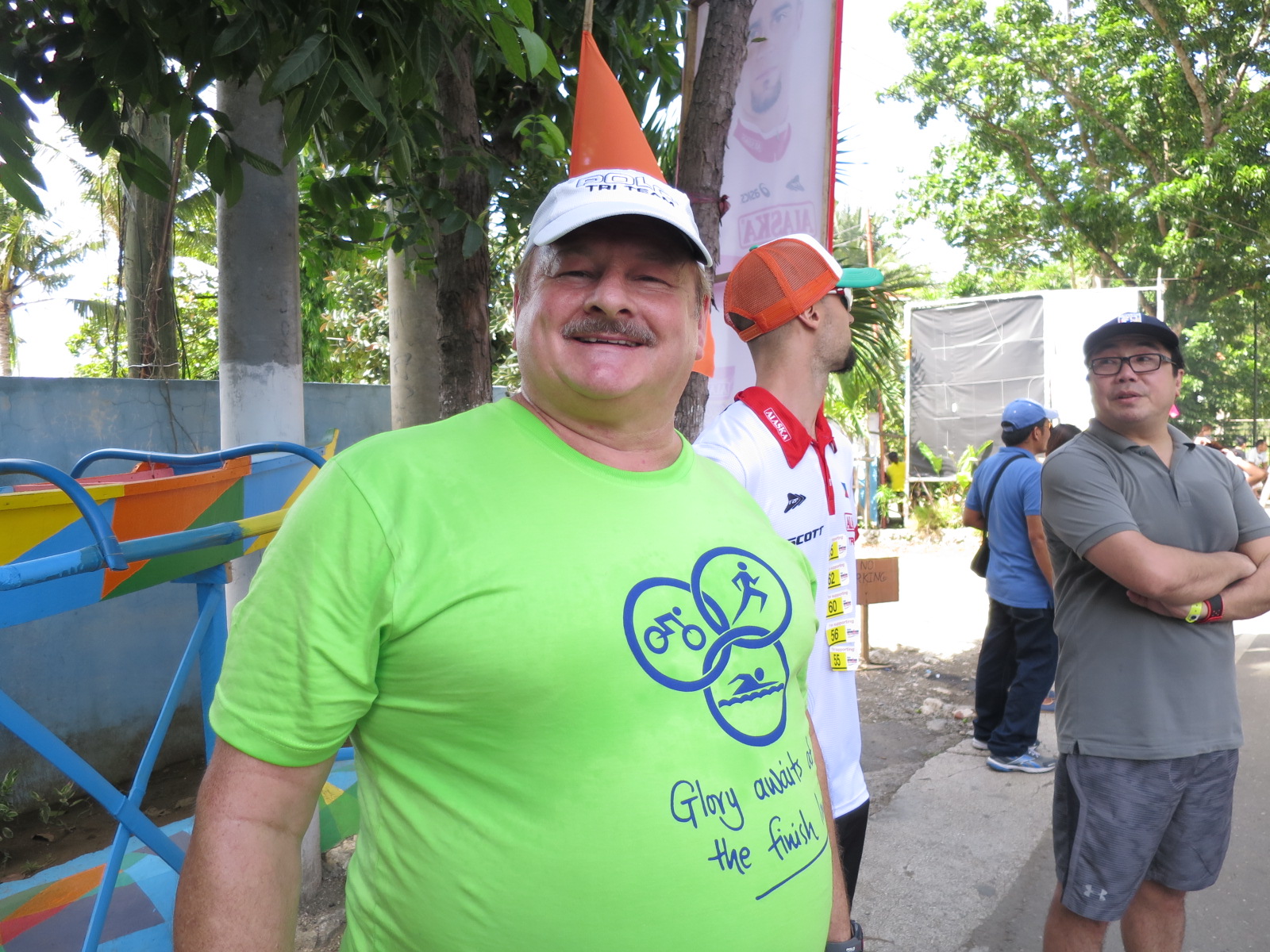 The peace and order situation was very well managed by the able Cebu Police Force who declared that they would enthusiastically take part in next year's race if a willing sponsor would take them in their wing and give them a break.  That would be a sight to behold!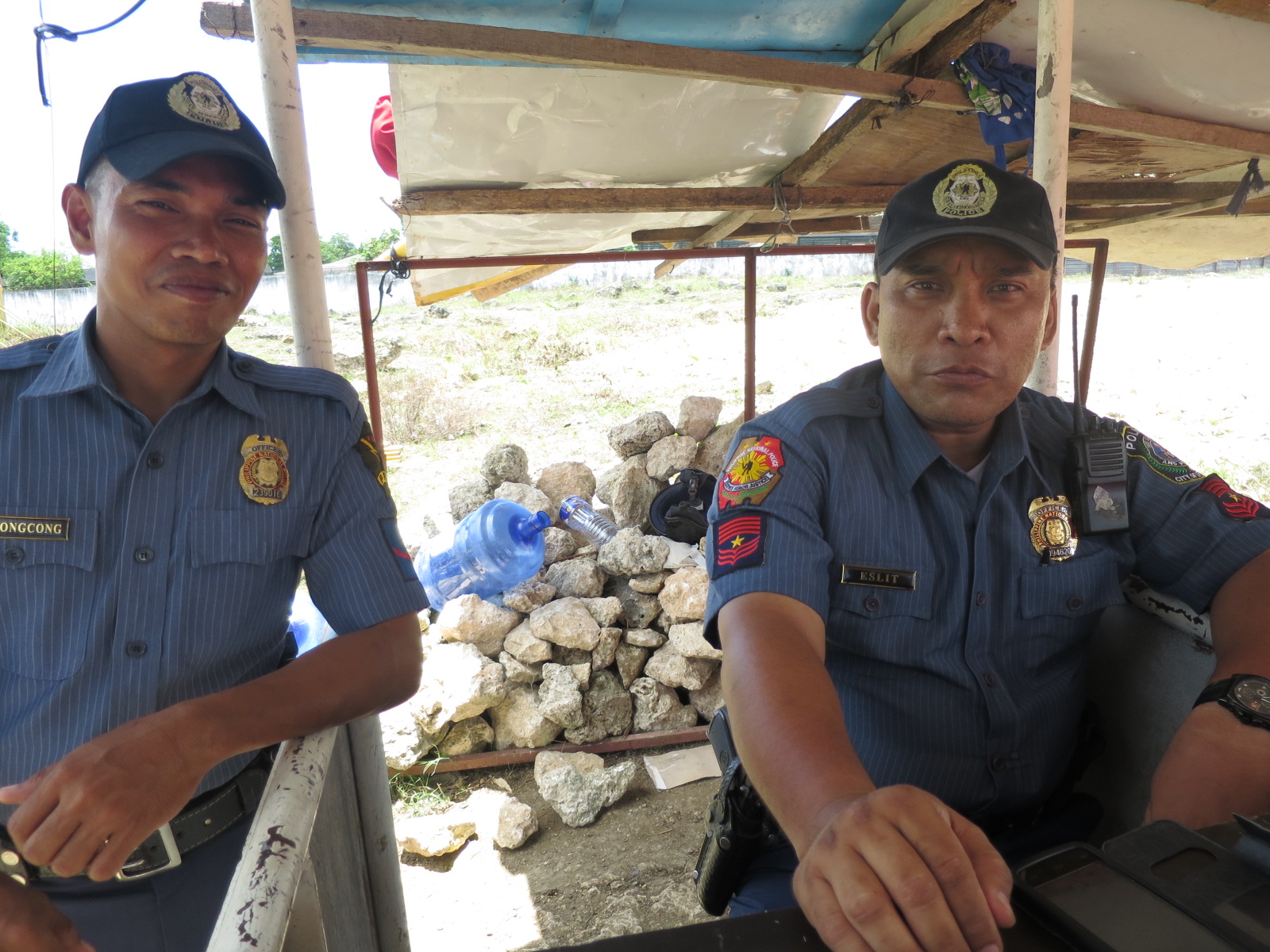 There was no stone left unturned in this event when it comes to making all of our senses feel the celebration which was very much true blue-Cebu!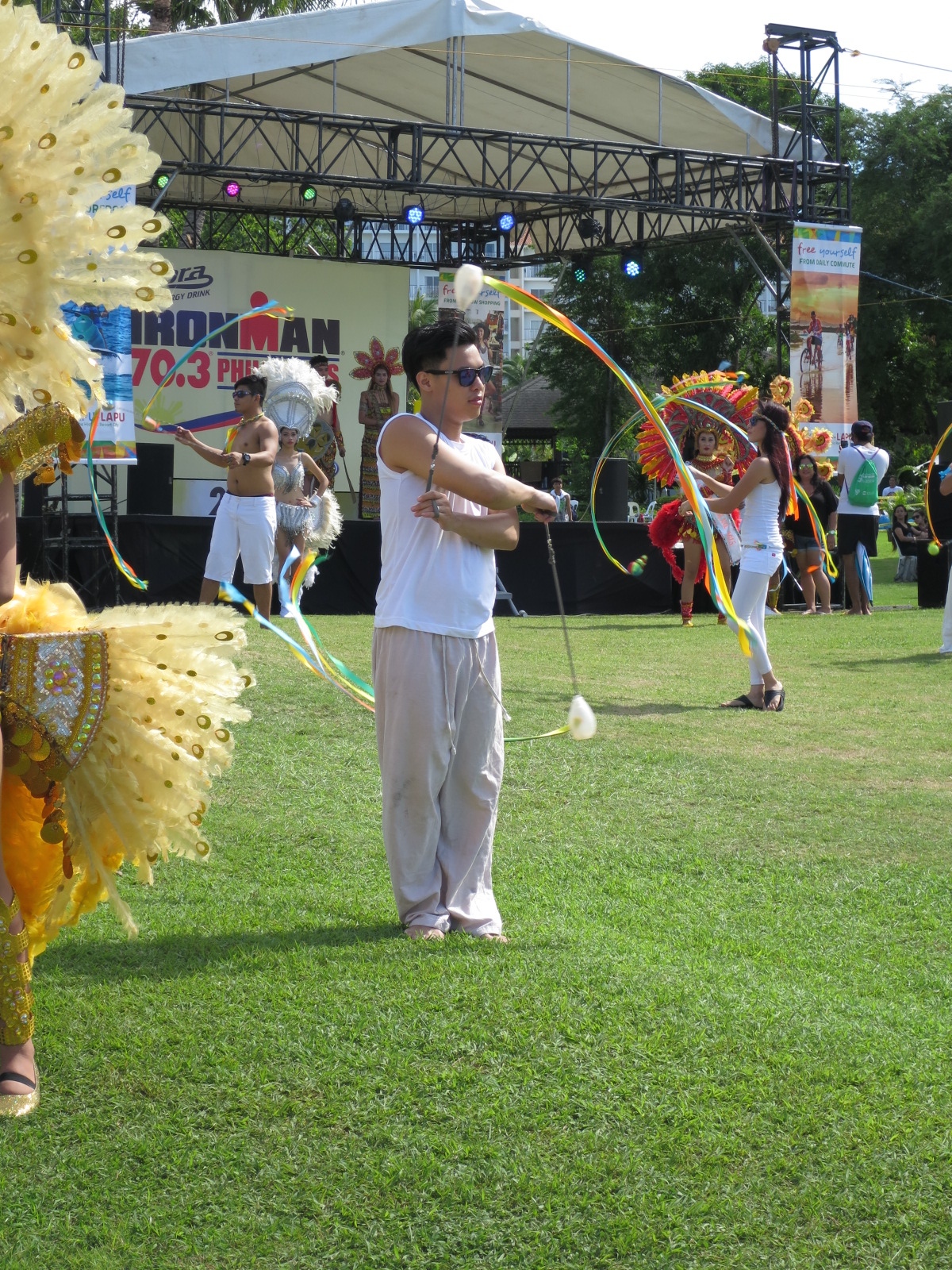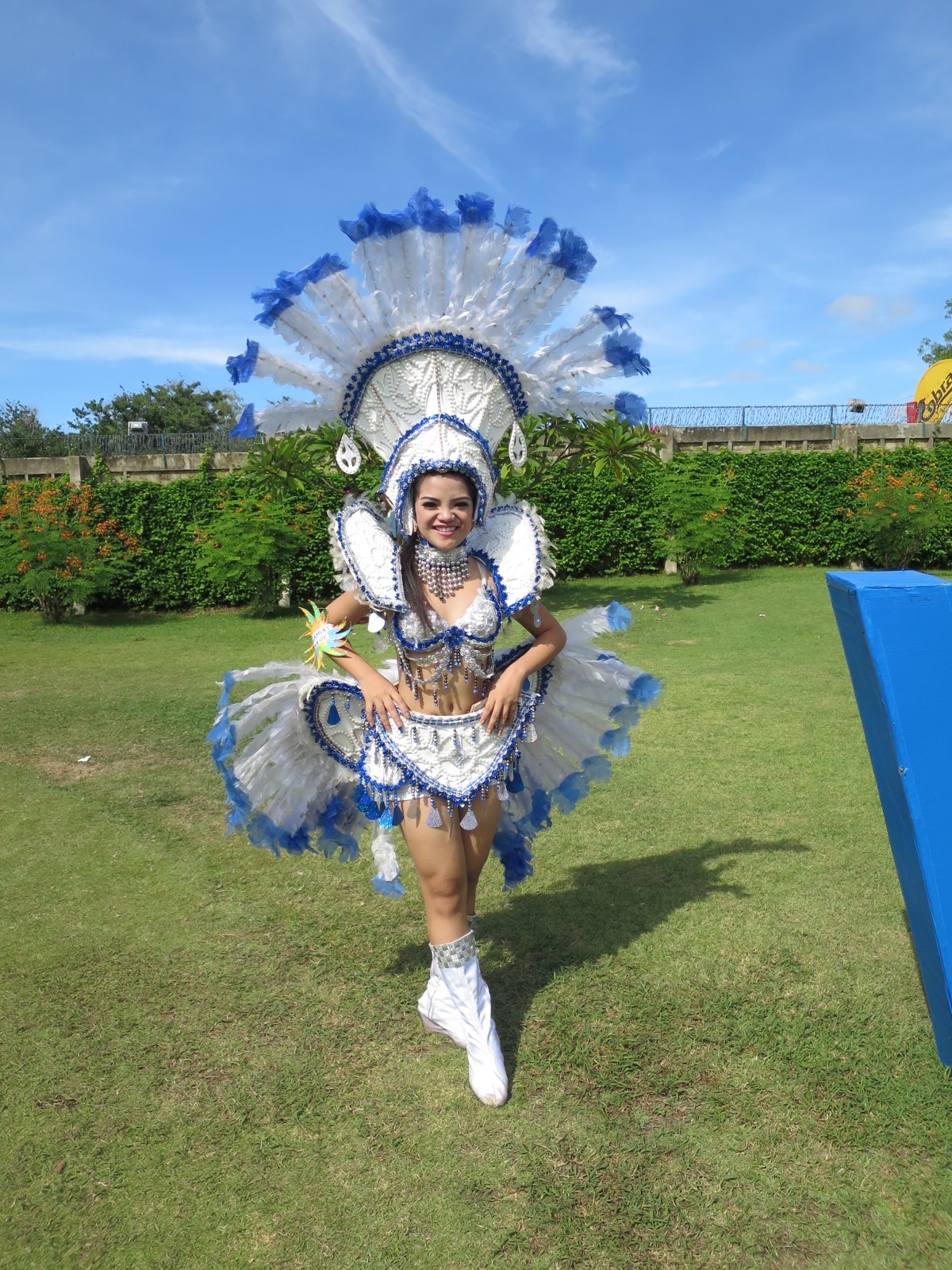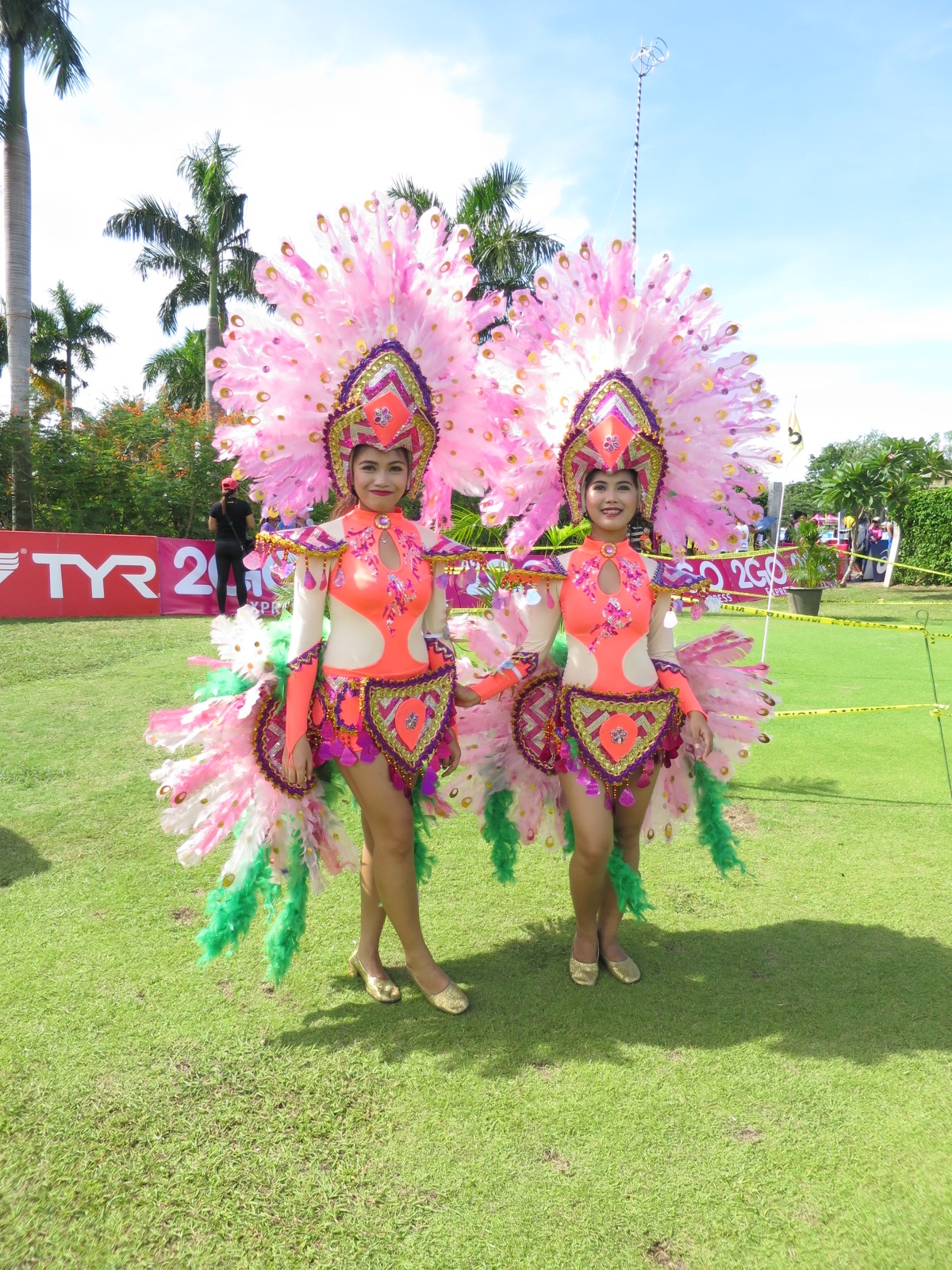 This was more than enough to entertain the supporters while waiting for the next chance to give cheer to their athletes on the go..Hannah made sure her daddy was refreshed every chance she could get-thru aromatherapy mists, food and hydration.  The best and most unforgettable moments though for Anthony would be Hannah going way out to meet him and run when as much as she can to accompany him.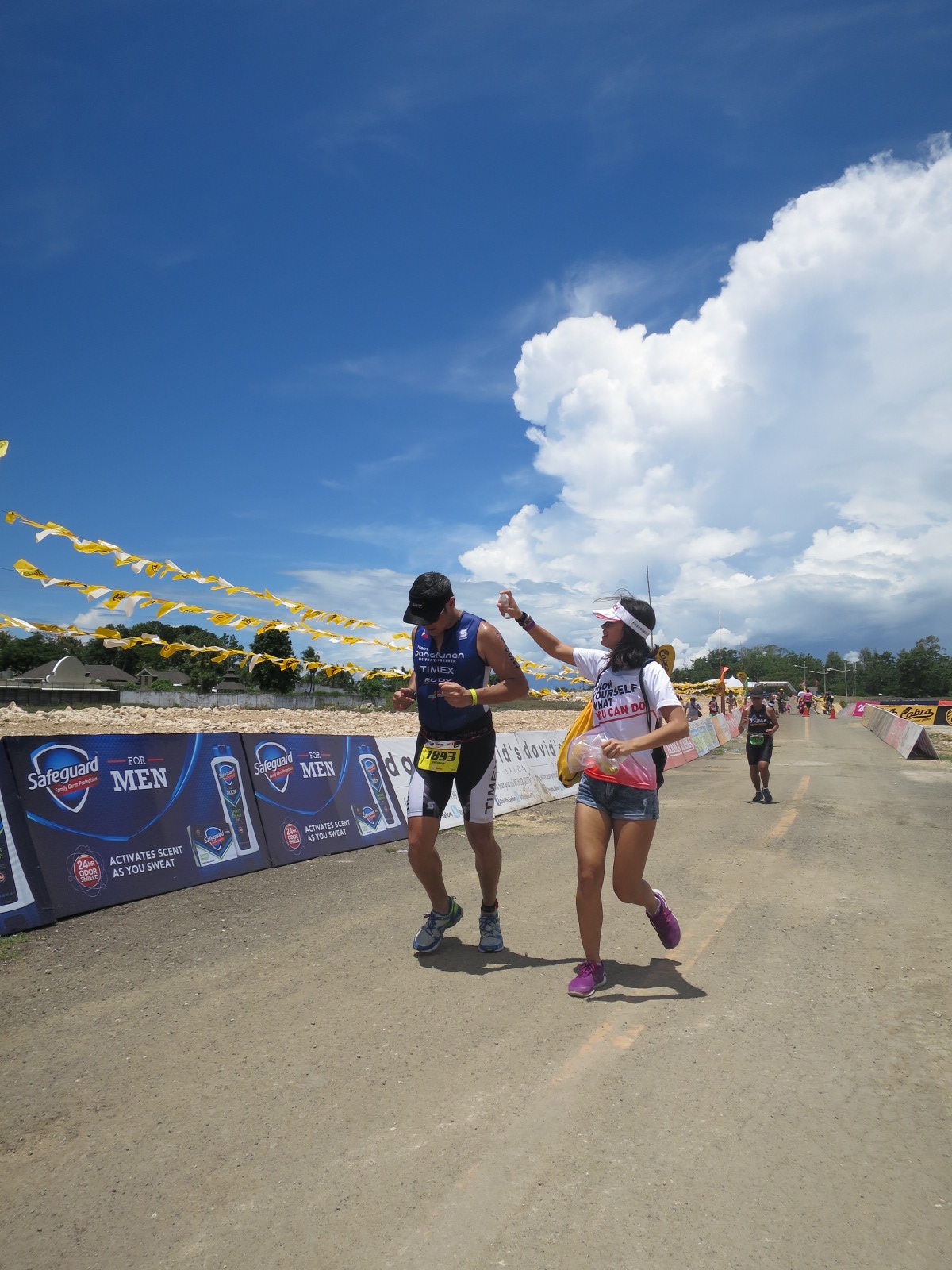 It was already the hottest part of the day when Anthony started his run and it really takes iron will to keep on going till the very end even if this was not his usual pace and race performance.  I guess when you know your special ones are on the lookout and waiting for you, you just keep going..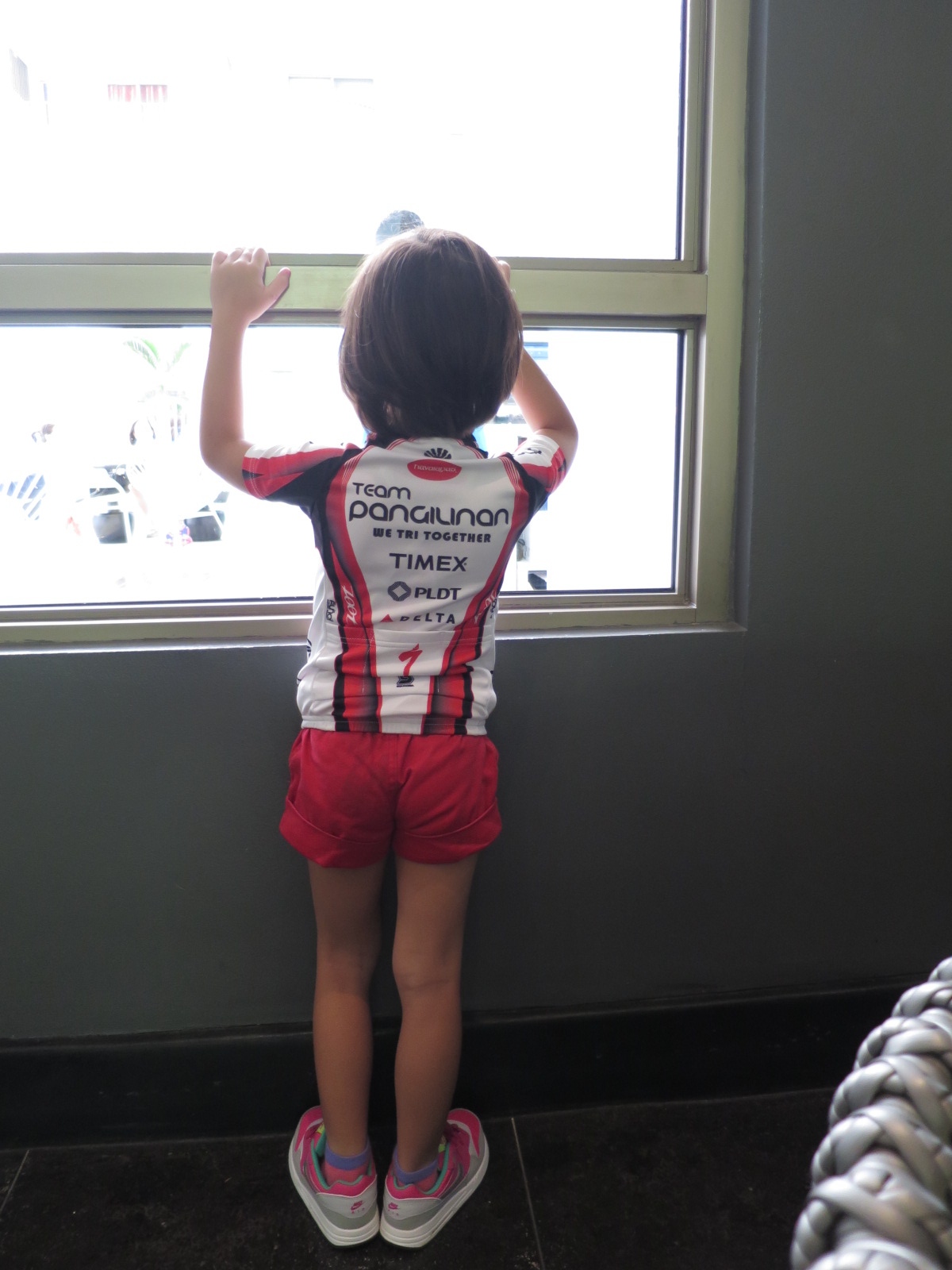 Until the very end and then you forget the abyss that you have just traversed.  All is good.  Enough said-'till the next Ironman!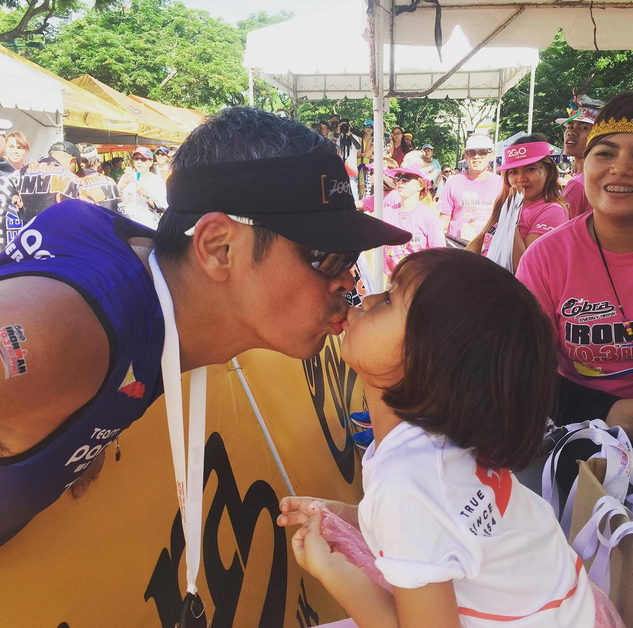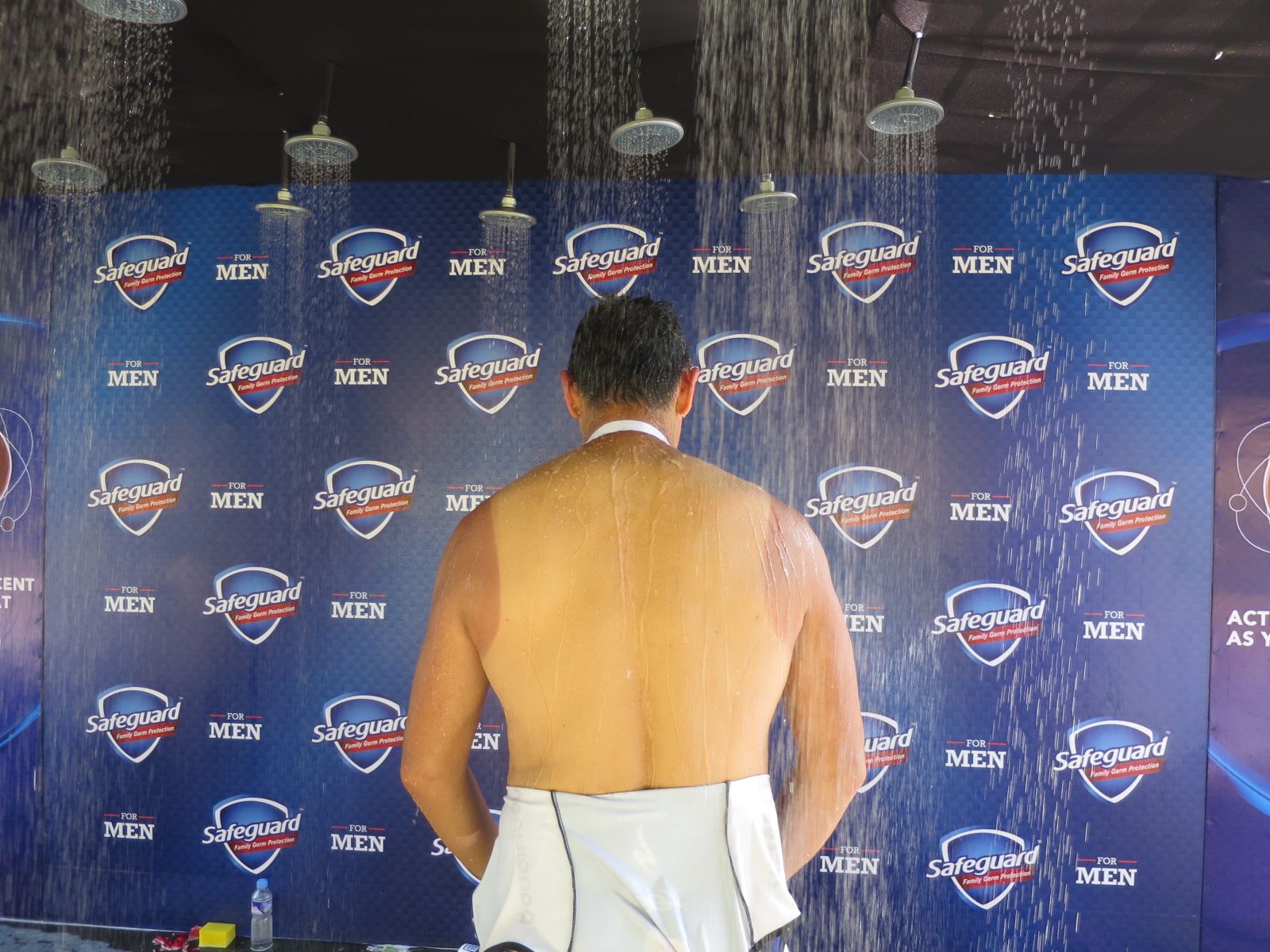 (Visited 231 times, 1 visits today)
August 5, 2015 by Mommy Maricel