my passions
Today, I choose to be thankful. I have a roof over my head, a cozy bed where I can cuddle with my family, food to eat , loving/enthusiastic household staff to help me run my home.  I can go on and on about things I am thankful for because they are just countless if and when I choose to see it from a grateful heart.
✈Anthony has been going on prolonged trips for his EMBA which takes him to Beijing, Singapore, Fountainbleau and Abu Dhabi.  We've really been missing him. Thank God for Skype we are able to be in touch and update each other as often as possible.  One of the biggest blessings for Anthony of course is having been recognized by Solana even after being gone for so long.  This was the first time he would be remembered by our babies upon coming home from a trip. As you know for babies, out of sight means out of mind-but not in this case. ☺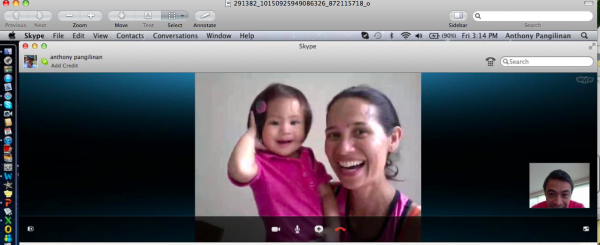 We've had to turn to the most creative ways to stay connected and I love how in this day and age that is so possible through different forms of social networking sites.  I remember when we were little, we'd have to rely on snail mail to get updates from my mom every time she'd be out of the country.  I would get her picture, talk to it -well most of the time cry to it and then wish for her to talk back.  It was quite an ordeal!
Wow, that is made possible now for my children.  But then again I still appreciate well thought out pouring of the heart in a well-written letter and then some techie ways to connect such as those available now thru the web.  Some things may change but one thing's for sure-connection must come from and felt by the heart.
(Visited 148 times, 1 visits today)
July 21, 2012 by Mommy Maricel