mommy talk faith
Amidst all the busyness of the Christmas season, I have found a window to post something that inspired me about the true meaning of Christmas.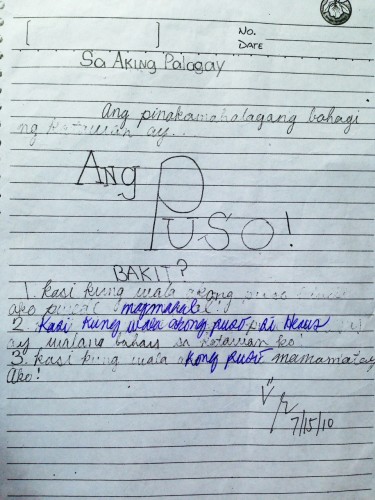 This was written by my daughter, Hannah in 2010 for a class assignment on body parts.  It says:
Sa aking palagay, ang pinakamahalagan bahagi ng katawan ay ang puso! Bakit? Kasi kung wala akong puso, hindi ako pwede MAGMAHAL.  Kasi kung wala akong puso, si Hesus ay walang BAHAY sa katawan ko. Kasi kung wala akong puso, MAMAMATAY ako!
(In my opinion, the most important part of the body is the heart.  Why? Because if I don't have a heart, I cannot love.  If I do not have a heart, there is no home for Jesus in my life.  If I don't have a heart, I will die!)
It never seizes to amaze me how children have the simplest yet profound ideas about things.  I don't want us to get lost in the festivities and the gift giving that compels people to forget what Christmas is all about-Jesus.
He is the reason for this season.  May we open our hearts to let him have room in it just as the stable provided a place for our Savior to be born. Let His kingdom come..into our hearts, for His will is perfect and beautiful in our lives .
John 10:10 says "I have come that they may have life, and have it to the full".
Have a very Merry Christmas, everyone!
(Visited 286 times, 1 visits today)
December 24, 2013 by Mommy Maricel