mommy talk my bulletin
Last week, I my baby Solana cried incessantly because of itchiness in her back. When I checked to see the cause, I was surprised to see her whole back with tons of red spots.
I was all of a sudden transported to my childhood and this came to mind- 'bungang araw'. It was so automatic for me to try to find powder as what my mom and grandmother would immediately reach out for at the first sign of 'bungang araw' or prickly heat.
When I realized I didn't have any in the house, I felt helpless. I didn't know what to do. Since I knew that the cause of prickly heat is exposure to hot temperatures, I got an ice pack, which I used to cool Solana's poor back. Thank God, she was relieved.
This got me thinking. I had gotten rid of powders for our children after reading all sorts of things about it and had mixed reactions towards powder. I didn't bother to research more about it and just got rid of it so I won't have to worry.
After this episode happened to Solana (mind you-this lasted a week), I now revisited this notion I have about powders.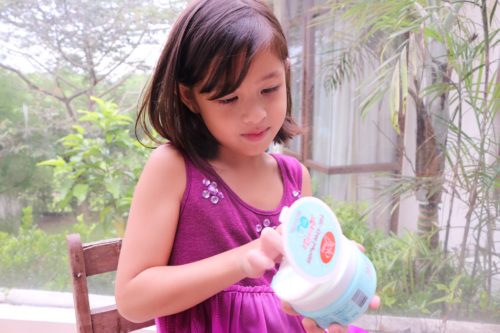 The thought of powders brought back happy memories of my grandmother, ending my daily baths with it and then her assurance I smelled really good after she sniffed me. She would smile to herself as if to give her a pat in the back that she had bathed me well and half of her day's work is almost done.
The picture of powder in my mind reminded of how it made me feel fresh all day long when it is hot and humid outside and a fresh pouring after playing in the streets re-energized me to keep playing until it was too dark to continue.
So what is all the fuss about powders? There's a lot of concern about talc. Merriam-Webster describes talc as a very soft a very soft mineral that is a basic silicate of magnesium, has a soapy feel, and is used especially in making talcum powder.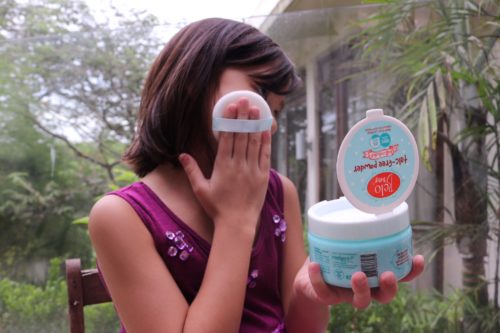 According to the American Cancer Society, there are two kinds of talc, one that contains asbestos and the other that is used in modern consumer products, which is not necessarily carcinogenic, as it does not contain asbestos. To pacify the public about talc, here's what the American Cancer Society has to say:
There is very little evidence at this time that any other forms of cancer are linked with consumer use of talcum powder.
Until more information is available, people concerned about using talcum powder may want to avoid or limit their use of consumer products that contain it.
With that being said, I am happy to find that there are natural talc-free alternatives that will allow me to have powder in our home.   It is such a delight to be introduced to Belo Baby Talc-free Powder. It smells really good and it comes with a guarantee! Belo Baby's promise is that their products are crafted with care for the most delicate skin and for the most meticulous moms.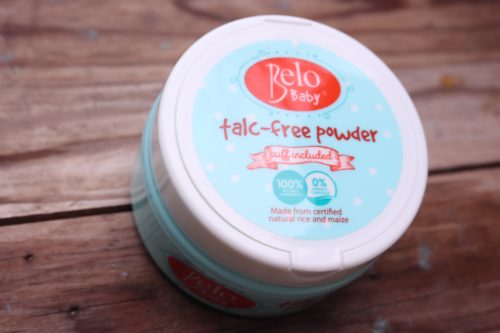 It is packed in such a way that is warm, playful and baby-chic. It reminds me so much of Baby Scarlet Snow Belo and her personality.
Mommies are assured with the following product benefits that comes with every pack of Belo Baby Talc-free Powder:
Made from certified natural and finely milled rice and maize.
Formulated without talc
No harmful chemicals
Hypoallergenic and dermatologist tested
Comes with a free puff!
I will make sure to keep one handy so we don't have to worry about 'bungang-araw' and to always smell and feel fresh all day long especially during fickle weather days. It gives me peace of mind to know that a safe and natural product can be experienced by my baby while allowing me to relive memories from my childhood.
***
Belo Baby Talc-free Powder is now available in leading supermarkets and department stores nationwide. It can also be purchased here: https://tackthis.co/shop/Belo/category/belo-baby and enjoy FREE delivery until May 31 with a minimum purchase.
For more information, check out Belo Baby sites in their website and social media accounts: www.belobaby.ph, FB: belobabylove, Twitter: @belobabylove, IG: @belobabylove.
Check out this cute video of Scarlet Snow Belo at this link and see just how she loves Belo Baby Talc-free Powder: https://www.youtube.com/watch?v=DDr4JpIeCdo
Share your thoughts creatively on why this product can be useful to your family as well and I'd be happy to ship lucky 3 commenters a surprise package from Belo Baby Talc-free Powder 🙂
(Visited 1,645 times, 1 visits today)
May 26, 2017 by Mommy Maricel